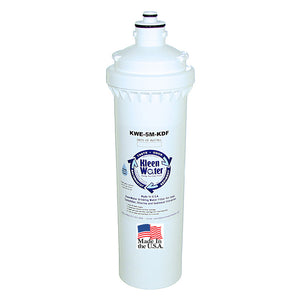 Everpure H-104 (H104) Compatible Water Filter Replacement Cartridge
Brand: KleenWater
Item Number: KWE-5M-KDF-H104
Regular price $ 43.45 On Sale
Estimated Arrival: Between Dec 08 and Dec 14. * ETA for USA only
H-104 (H104) Everpure Compatible Water Filter Replacement Cartridge by KleenWater - Made in the USA
Now with 5 micron and 1 micron dual filtration technology.

The KleenWater KWE-1M-KDF cartridge is your best choice for a low cost, high quality alternative to the Everpure H-104 filter cartridge. This filter is rated for an impressive 10,000 gallon capacity at 1.67 gallon per minute flow rate. The KleenWater KWE-Series is for value conscious customers who are using existing permanent heads but would like a low cost alternative cartridge option with exceptional performance. The sanitary cartridge design allows for quick and easy replacement.

Compatible with:

• EV9612-16 and EV9612-11. Formerly known as KWE-1M-KDF-H104

Our Kleenwater cartridge employs carbon block construction. This type of activated carbon filtration is widely accepted as superior to granular activated carbon filtration. Through the process of adsorption, activated carbon filtration removes chlorine, taste / odor contaminants and chemicals from water. The carbon block is twice wrapped with polypropylene filtration sheathing. The outer wrap is rated for 5 micron dirt sediment removal followed by a second layer with a 1 micron filtration rating. This cartridge is enhanced with KDF media to inhibit scale build-up that can damage equipment. Also KDF media removes heavy metals, including lead, via the process of oxidation / reduction.

This design provides dirt sediment filtration, taste odor chlorine adsorption, lead reduction, scale inhibition and microbial control.
Performance capabilities:

• 1 Micron Filtration

• Greater than 95% Chlorine Reduction for 10,000 gallons @ 1.67GPM

• Infused with KDF Media Creating a Bacteriostat for Microbial Control

• Enhanced with KDF media to inhibit scale build-up that can damage equipment
Specifications:

- KleenWater Replacement for Everpure H-104

- Dimensions - 3.5 Inch x 13 inch

- Temperature Range 35 - 100 Degrees F

- Maximum Pressure 125 lbs PSI

- NSF/ ANSI Certified Standard 042

- Recommended cartridge change every 6-12 months