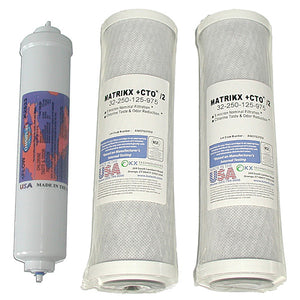 Carbon Block Reverse Osmosis Water Filter Set (Taste Enhancement)
Brand: OmniPure USA
Item Number: RVRCIL
Regular price $ 41.98 On Sale
This set of two 5 micron carbon block Reverse osmosis water filter cartridges is effective pre-filtration for both chlorinated (municipal) and private well (non-chlorinated) water
The 32-250-125-975 carbon block cartridge is manufactured in the U.S. It can remove dirt sediment down to 5 micron and adsorb chlorine / chloramine and other chemicals providing superior reverse osmosis membrane protection. This cartridge set should be replaced every 6-12 months.
Universal 2.5 x 9.75 inch dimension
Rigid extruded carbon block construction
Removes disinfectants that damage thin film composite membranes
This package includes an additional stage 4 post filter. This in-line filter contains 50% calcium carbonate mineral and 50% granulated activated carbon. The purity of reverse osmosis water can impart a non-desirous flat taste. This cartridge enhances the ro product water taste by adding a small amount of calcium carbonate mineral and providing final stage carbon filtration.