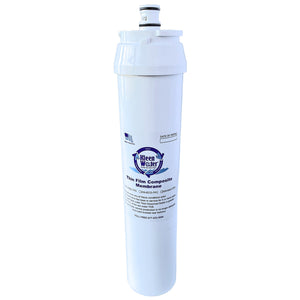 Puronics/Ionics 66-5706PRI Compatible Reverse Osmosis Membrane Module (USA)
Brand: Kleenwater
Item Number: KW-MAX-TFC
Regular price $ 99.00 On Sale
Estimated Arrival: Between Dec 11 and Dec 17. * ETA for USA only
KleenWater Reverse Osmosis Membrane Module Compatible with the Puronics/Ionics 66-5706PRI. Made in the USA.
Fits the following system: Puronics Ionics Micromax 6000 system
Rated for 50 gallon per day, change every 3-5 years

Constructed with Thin Film Composite (TFC) material
Our membrane is constructed of thin film composite FDA approved material and is made in the USA. The membrane is the component of a reverse osmosis system that separates Total Dissolved Solid (TDS) contaminants such as sodium, manganese, fluoride, nitrate, nitrite, lead and iron from the water molecule. When the membrane is performing efficiently these contaminants are reduced by 95%. For example, if the kitchen tap water TDS is 200 parts per million (ppm) the RO water TDS should be less than 95%, or 10 ppm or under. When the TDS number falls below a rejection level of 90% the membrane needs to be replaced. Low cost handheld TDS testing meters are widely available. If the reverse osmosis system can no longer keep up with household demand it may be that the membrane has lost efficiency and needs to be replaced. In any event do not exceed 5 years of membrane service life.