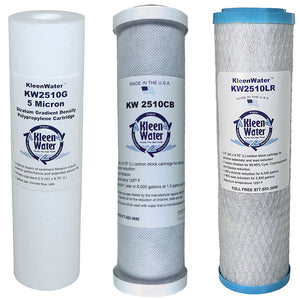 PWFRO50RC3 - Reverse Osmosis Replacement Cartridges(3 set)
Brand: KleenWater
Item Number: PWFRV50RC3
Regular price $ 39.59 On Sale

Replacement cartridges for the 50 gallon per day reverse osmosis drinking water system PWFRO50

These cartridges should be replaced annually at minimum. If the feed water quality is exceptionally poor, change at 6 month intervals.
Stage1: This cartridge will remove dirt / sediment filtering to 5 microns. The spun polypropylene construction provides exceptional filtration.
Stage 2: The primary function of this carbon block cartridge is to adsorb clorine / chloramine from water to protect the reverse osmosis membrane and enhance water quality.
Stage 3: This extruded activated carbon block filter boasts impressive capabilities. Reduces levels of lead, cysts and dangerous chemicals. The mesh of the ingredient carbon provides for chlorine removal and a dirt / sediment rating of 0.5 micron nominal & 1 micron absolute.** This provides cyst removal such as Cryptosporidium & Giardia. The turbidity reduction characteristics allow for even asbestos removal. Lead is removed by incorporating an ion exchange filter media into the carbon block extrusion.