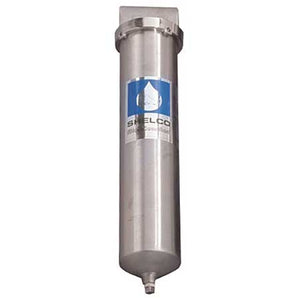 2.5 x 20 Shelco Stainless Filter Housing - RHS-80
Brand: Shelco Filters USA
Item Number: RHS-80-01
Regular price $ 312.50 On Sale
The RHS-80 stainless steel fluid / water filter housing can accomodate flow rates of 14 GPM and the maximum design working pressure is 300psi @ 200F. The unit is compatible with industry standard 2.5" x 20" cartridges. This housing can accomodate specialty cartridges for unique applications. The RHS-80 is an extremely rugged liquid filter housing made in the U.S.A by Shelco Filters - Middletown, Ct. Stainless steel is very corrosion resistant. It has sufficient amounts of chromium ( at minimum 16%) present so that a passive film of chromium oxide forms which prevents further surface corrosion and blocks corrosion from spreading into the metal's internal structure.
FNPT 3/4 or 1" inlet / outlet
Mounting bracket and wrench included
Accepts double-open-end cartridges
Simple ring closure for quick cartridge change outs
2.5 inch x 20 inch
*For high temperature applications over 150 degrees use hot water cartridges and a Viton o-ring.

MADE IN THE U.S.A.