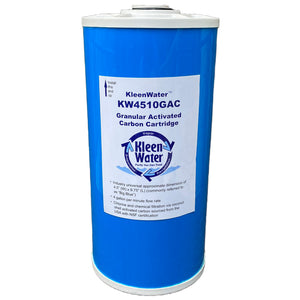 KleenWater Activated Carbon Water Filter, Replacement Cartridge
Brand: KleenWater
Item Number: KW4510GAC
Regular price $ 28.95 On Sale
Estimated Arrival: Between Oct 02 and Oct 08. * ETA for USA only
KleenWater KW4510GAC Granular Activated Carbon Water Filter Cartridge, 4.5 x 9.75 inch
Chlorine, sulfur, odor, chemicals, dirt, rust and sediment filtration
Provides "bottle quality water"
Axial flow allows for efficient filtration and adsorption of contaminants
The KW4510GAC reduces chlorine, chloramine, sulfur, odors and other contaminants via the process of adsorption. The active ingredient is USA sourced granular carbon. Through the process of adsorbtion activated carbon removes chlorine and chemicals from water. Carbon is also effective at removing modest levels of hydrogen sulfide ("rotten egg") odors from water.
The "industry standard" 4.5 x 9.75 inch dimension is best suited for point of use applications and is capable of sustaining 4 gallon per minute flow rates. The cartridge can be used for "point of entry" applications however for heavy sediment conditions we recommend a 5 micron pre-filter. The cartridge should be changed every 3 - 6 months or upon substantial flow rate reduction.
Specifications / Dimensions:
Width: 4.5 inch
Length: 9.75 inch
Flow rate:  4 GPM
Micron rating: 20 micron
Compatible replacement for:
- Pentek (A.K.A. Ametek, US Filter & Culligan) GAC-10-BB GAC-BB RFC10-BB, RFC-BB RFC-BBS Big Blue
- GE FXHTC GAC
- Sears/Kenmore 34378 42-34378
- Whirlpool BB Carbon WHCF-WHPCBB
- Watts GAC-BB10 PWGACBB
- Liquatec UDF-10BP
- American Plumber WGCHD
- Cuno AquaPure AP817
- Filtrete 4WH-HDGAC-F01
The industry universal dimension of 4.5 inch x 9.75 inch makes it compatible with filter housing manufacturers such as GE (GXWH35F, GXH30C, GXWH40L), Whirlpool (WHKF-DWHBB), Cuno(AP801), Sears/Kenmore(38448), Culligan(Big Blue) and Ametek (Big Blue), among others.