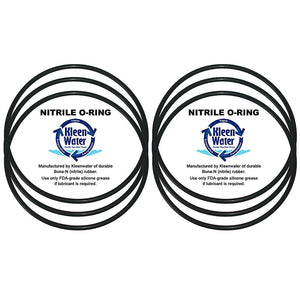 Six GE GXWH04F GXWH20F GXWH20S GXRM10 GX1S01R Compatible O-rings
Brand: KleenWater
Item Number: KWGE25RG-VALUE-PACK(6)
Regular price $ 14.95 On Sale
Estimated Arrival: Between Dec 08 and Dec 14. * ETA for USA only
KleenWater KWGE25RG-VALUE-PACK O-rings, Compatible with GE GXWH04F GXWH20F GXWH20S GXRM10 GX1S01R Water Filters, Set of 6
Water filter housing replacement o-rings for GE housings which accept a 2.5 Inch cartridge
3 5/16 inch ID X 3 9/16 inch OD
Durable Buna-N Construction
Compatible with GE GXWH04F, GXWH20F, GXWH20S, GXRM10, GX1S01R and OmniFilter model OB5
Our value pack set of 6 o-rings provides tremendous savings and convenience. No more taking long trips to the hardware store or waiting for your online purchase in the mail. Owning this value pack means always having a spare o-ring on hand.

An o-ring facilitates a water tight seal between the water filter sump and the water filter head. Made from high quality Buna N material also commonly referred to as nitrile. This is the ideal choice for cold water filtration because they are inexpensive and have superior performance characteristics.

Manufactured by KleenWater. KleenWater is a trademark of Pavel Water Filtration.