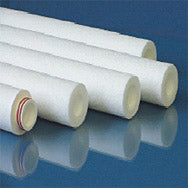 10" Industrial (Commercial) Water / Fluid Filter - Qty 50
Brand: KleenWater
Item Number: PWF2510MB-01
Regular price $ 140.80 On Sale
Melt blown industrial (commercial) cartridge water / fluid filter. Compatible with Shelco, Harmsco, Watts, 3M Cuno and all other major manufacturers. These cartridges are made of 100% graded density polypropylene. Larger dirt / sediment is trapped near the cartridge surface and progressively finer particles are filtered through the core. Thus the cartridge possesses exceptional solids / holding capacity resulting in longer duration of service.
The polypropylene construction offers a wide range of chemical compatibility. These double open ended cartridges have impressive flow rates of 7 gallons per 10 inch of cartridge length.
*Contact us if different end cap configurations are required. Tel. 877-553-3698.
Dimensions: 2 1/2 Inch x 10 Inch (Actual Size 9 7/8 Inch)
Maximum temperature 140 degrees F.