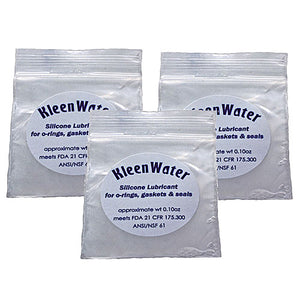 3 Packets of Silicone Lubricant for O-rings, Gaskets & Seals
Brand: KleenWater
Item Number: KWSILICONE-Qty3
Regular price $ 9.89 On Sale
Estimated Arrival: Between Dec 11 and Dec 17. * ETA for USA only
Small .1 oz Packets - Free Shipping - 3 Packets of Silicone Lubricant for O-rings, Gaskets & Seals - Water Filter Housing O-ring Lubricant

Protects your o-rings extending their useful life
Works on all brands of water filter housings
Resealable, waterproof plastic bag
Meets FDA 21 CFR 175.300 ANSI/NSF 61
Helps provide a good seal to prevent water leaks
3 small packets of silicone lubricant for o-rings, gaskets & seals .1 oz. Silicone lubricant in a resealable plastic zip bag for small projects. Provides lasting protection for o-rings and helps provide a good seal to prevent water leaks. A low cost lubricating solution for water filter housing o-rings, pool pumps, hoses, sprayers, plumbing projects, tire valve stems and many other applications. Protects your o-rings extending their useful life.

Works on all brands of water filter housings. Resealable, waterproof plastic bag. Meets FDA 21 CFR 175.300 ANSI/NSF 61.

Possible Uses Include: O-rings ~ Gaskets ~ Valves ~ Bushings ~ Tire Stems ~ Pool & Plumbing Connections ~ Fittings ~ Hoses ~ Sprayers.