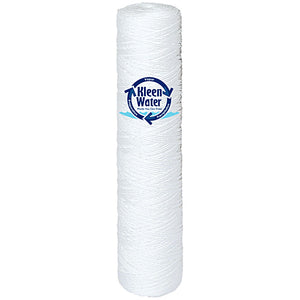 4.5 x 20 String Wound Sediment Water Filter Cartridge
Brand: KleenWater
Item Number: KW4520SW-5MICRON
Regular price $ 39.59 On Sale
Estimated Arrival: Between Oct 02 and Oct 08. * ETA for USA only
String Wound Sediment Water Filter Replacement Cartridge - 4.5 inch x 20 inch
Choose from 5, 20 and 50 micron filtration
Filters dirt, rust and sediment
Made from wound polypropylene cord
4.5" x 20" industry standard universal dimension
Fits Culligan,Cuno Aqua-Pure,GE,Ametek (AKA Pentek/US Filter) and many other water filter housings
Change cartridge every 6-12 months or upon substantial pressure reduction
This replacement cartridge is an ideal choice for the value conscious consumer. It's performance is commensurate to the competition at a fraction of the cost.
The KW4520SW is manufactured from a durable polypropylene cord that is wound around a rigid polypropylene core. The large exposed surface area gives this cartridge impressive dirt-loading capacity. Thus it can perform longer and more efficiently. The cartridge effectively removes dirt, rust and sediment. The impressive flow rates of up to 40 gallons per minute allow for use in residential, commercial and industrial applications. The industry universal dimension of 4.5 inch x 20 inch makes it compatible with filter housing manufacturers such as GE, Culligan, Cuno, and Ametek, among others.
Competition Cross Reference
- Cuno Aqua-Pure AP814-2
- Ametek (AKA Pentek, US Filter) WP5BB20P
- Watts SF1-20-425, SF5-20-425, SF20-20-425, SF50-20-425
- Liquatec SWF-45-2005, SWF-45-2020, SWF-45-2050
Specifications
Temperature Rating 40F – 165F (4.4C – 74C)
The smaller the micron rating the better the entrapment capability.