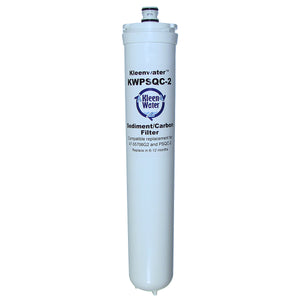 47-55706G2 Water Factory Sediment Carbon Block Pre-filter Alternative
Brand: KleenWater
Item Number: KWPSQC-2
Regular price $ 32.99 On Sale
Estimated Arrival: Between Dec 11 and Dec 17. * ETA for USA only
Water Factory 47-55706G2 Compatible Filter
KleenWater brand compatible sediment carbon block pre-filter cartridge for Water Factory model 47-55706G2 filter.

47-55706G2 Replacement Cartridge
Our KleenWater high quality, low cost alternative replacement for the 47-55706G2 water filter cartridge.

Water Factory Carbon Water Filter Replacement Cartridge
Activated carbon filter compatible with Water Factory water filters.
The KleenWater KWPSQC-2 radial carbon block design efficiently adsorbs chlorine / chloramine and other chemicals from water. The PSQC(sanitary quick change) design allows for quick and easy cartridge change.
The PSQC-2 is a compatible replacement filter used with Water Factory model SQC3 and CMTRO-75

Replacement for Water Factory Model 47-55706G2, 47-55706CM, 3M OWS33, S33-RO (model 56136-03), Essential Water and Air (F06G2) and Shaklee Best Water (61029-31)
5 Micron Dirt Sediment Rating
Flow Rate 2500 Gallons
Reduces Sediment, Dirt, Rust, Chlorine, Taste, Odor
Temp 40-100F
Replace Cartridge Every 6 to 12 Months
Replaces 47-55706G2