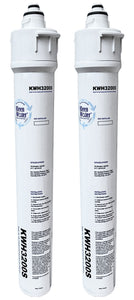 Hoshizaki 4HC-H (H9655-11) Food Service Compatible Replacement Water Filter - Twin Set
Brand: KleenWater
Item Number: 4HC-H KWH3200S-TwinSet
Regular price $ 110.31 On Sale
Estimated Arrival: Between Dec 08 and Dec 14. * ETA for USA only
Hoshizaki 4HC-H Compatible Filter Twin H9320-52 System Replacement 
Hoshizaki 4HC-H food service alternative replacement water filter by KleenWater.
Chlorine Reduction
Scale Inhibitor
Not recommended for use with flakers
H9655-11 Hoshizaki Compatible Filter
This is an ideal choice for the commercial food and beverage industry. The KWH3200S is comprised of granulated activated carbon which is compressed into a rigid carbon block. This design provides dirt / sediment filtration, taste odor chlorine adsorption and chemical removal. The phosphate ingredient maintains ice machines by reducing scale which will protect the distribution lines, evaporator plate and pump.
Fits the following systems:
Hoshizaki 4HC-H H9320-52 Twin System

Hoshizaki 4HF-H System
Our replacement filter is for value conscious customers who are using existing permanent heads but would like an alternative cartridge option with exceptional performance.
Specifications / Dimensions:
Width: 3 Inch
Length: 20.5 inch
Micron Rating: 1 micron
Capacity: 29,000 gallons
Flow Rate: 2.1 GPM
Temperature Range: 35 - 100 Degrees F
Maximum Pressure: 125 lbs PSI
NSF/ ANSI Certified Standard 042
Recommended to change this cartridge every 6 - 12 months or upon substantial pressure reduction.
KleenWater is a trademark of Pavel Water Filtration.