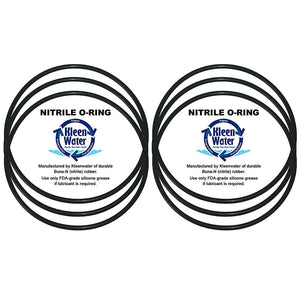 Aqua-Pure AP101T / AP102T (63597-174C) Compatible Water Filter O-ring-Set of 6
Brand: KleenWater
Item Number: AP101TRG-Qty6
Regular price $ 15.35 On Sale
Estimated Arrival: Between Dec 08 and Dec 14. * ETA for USA only
Six AP101T / AP102T Aqua-Pure (63597-174C) Compatible Water Filter Housing Replacement O-Rings by KleenWater
KleenWater replacement o-ring for models: AP101T, AP102T, AP11S, AP11T, AP12S, AP12T, AS26T, AP51T, AP101S and AP102S.
KleenWater AP101TRG water filter Housing Replacement O-Ring for 3M Aqua-Pure AP101T / AP102T. This o-ring can also be used as a replacement for models AP141T and AP11T. The o-ring itself actually measures approximately 3.5 inches (inside diameter). We recommend consumers keep a spare o-ring on hand to avoid urgent situations.
An o-ring facilitates a water tight seal between the water filter sump and the water filter head. The most common o-rings used in water filtration are made from Buna N material. Buna N is also commonly referred to as nitrile. This is the ideal choice for cold water filtration because they are inexpensive and have superior performance characteristics.