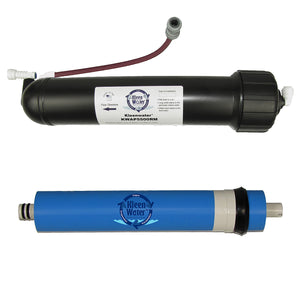 Aqua-Pure AP5500RM Compatible Reverse Osmosis System Membrane Module
Brand: KleenWater
Item Number: KWAP5500RM
Regular price $ 60.45 On Sale
Estimated Arrival: Between Dec 08 and Dec 14. * ETA for USA only
Aqua-Pure AP5500RM Compatible Reverse Osmosis Membrane Module with Housing and Accessory Fittings for APRO5500 by KleenWater
KleenWater brand Aqua-Pure AP5500RM compatible replacement module
Includes 50 gallon per day membrane and membrane housing
Membrane housing includes flow restrictor and elbow check valve
Membrane rejects minimum 90% of dissolved mineral contaminants
Membrane Rejects Unhealthy Contaminants such as Asbestos, Lead, Mercury, sodium and fluoride
Aqua-Pure AP5500RM compatible replacement module by KleenWater. Includes (1) 50 gallon per day reverse osmosis membrane and (1) reverse osmosis membrane housing with elbow check valve and flow restrictor. This kit is a compatible replacement for many under sink reverse osmosis drinking water systems.
The KleenWater KWAP5500RM can also be used to replace the 3M Aqua-Pure membrane AP5500RM for model AP-RO5500. The KWAP5500RM is likely compatible with all point of use reverse osmosis drinking water filtration brands that have horizontally mounted membranes.
Please enter part # PWFRO50RM in the search bar if you require the replacement membrane only. It is recommended the membrane module be replaced every 3-5 years or when total dissolved solids reduction diminishes below 90%.
KleenWater is a trademark of Pavel Water Filtration.