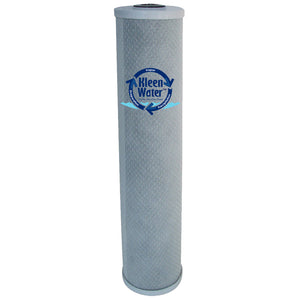 Aquios RCFS236, AQFS234, AQFS234L Compatible Carbon Water Filter Cartridge (USA)
Brand: Kleenwater
Item Number:
Regular price $ 59.95 On Sale
Estimated Arrival: Between Dec 08 and Dec 14. * ETA for USA only
KleenWater Replacement Carbon Water Filter Cartridge Compatible with the Aquios RCFS236, AQFS234, and AQFS234L. Made in the USA.
Carbon Block Filter for Chlorine, Cloramine, Sulfur, Odor, Pesticides, Contaminants, Dirt and Sediment.
Designed to reduce chlorine taste and odor and utilizes a natural polyphosphate additive known as Siliphos to soften and condition your water.
Protects hot water system corrosion and maintains energy efficiency
Made in the USA
Our KW4520CB-SlowPhos is a compatible replacement to the Aquios RCFS120. A water softener operates on the principle of cation exchange which removes hardness cations and replaces them with sodium ions. Soft water is absent of dissolved mineral that cause hardness (i.e. calcium and magnesium). Our water filter does not soften the water but the SlowPhos polyphosphate does sequester the hardness cations thus inhibiting mineral scale formations and minimizing corrosion throughout the water system. Also the activated carbon content will adsorb chlorine and chemicals yielding very high quality water.
Please be advised this filter is ideally suited to be employed at the "point of use" as opposed to the "point of entry" of a home.
Our KW2510CB-SlowPhos is also an ideal filtration selection for commercial ice machines and commercial coffee makers. These cartridges are capable of removing chlorine and chemicals that impart adverse taste. They have a dirt sediment rating of 5 microns nominal. The projected chlorine reduction capacity is rated for 6000 gallons when tested in accordance with NSF /ANSI standard 42 protocol. 
Dimensions / Specifications:
Width: 4.5 inch
Length: 20 inch
Micron rating: 5 micron
Flow rate: 3 GPM
Capacity: 6000 gallons
Recommended cartridge change every 6 months or upon substantial pressure reduction.
KleenWater is a trademark of Pavel Water Filtration.