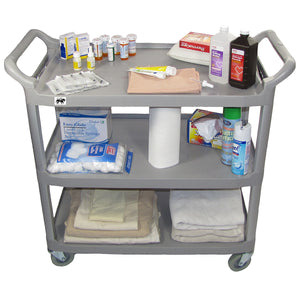 Large Gray Crayata 3 Shelf Rolling Utility and Service Cart, Heavy Duty Plastic Shelves, 40L x 20W x 38H (inches)
Brand: Kleenwater
Item Number: CRAYATA-MPC3LG-G
Regular price $ 179.00 $ 179.00 On Sale
Estimated Arrival: Between Oct 01 and Oct 07. * ETA for USA only
 Crayata  3 Shelf Rolling Utility Cart with Heavy Duty Plastic Shelves and Custom  Oversized 4 Inch Wheels, 400 Pound Weight Capacity, Gray (Large)                     
 Genuine Crayata brand heavy duty 3 tier moblile multi-purpose transport / storage cart

 Perfect for the office, hospital, school, classroom, library, hotel, warehouse, garage or kitchen

 

 40 inch length x 20 inch width x 38 inch height. See second image for exact dimensions

 

 Sturdy handles and quality 4 inch wheels make steering a breeze 

 Made of durable polypropelene, heavy duty shelves will resist bowing
 This Crayata multi-purpose utility cart is sold exclusively by Crayata,  LLC. We custom designed our cart with quality materials and larger 4  inch wheels. The MPC3LG has 3 durable plastic (polypropylene) shelves  with sturdy aluminum legs. The shelves have a 1 inch lip on 3 sides to  keep items from slipping off while one side has a 1/8 inch lip to allow  easy loading. The oversize 4 inch wheels allow you to move heavy loads  with ease. Includes push / pull handles on both sides with built in  storage trays for small items. The handles are ribbed to provide better  control and to help avoid slippage. 
Our Crayata brand cart is  commonly used in offices, schools, warehouses, factories, hospitals,  rehabs, medical centers, restaurants, garages, and technology centers.  Don't let the stylish look fool you, this cart is a workhorse and holds  up well to frequent use, bumps, bangs and some unintentional abuse. Let  us know how you decided to use it. 
Assembly required. Tools  needed: a block of scrap wood and a hammer or mallet, not included. It  takes some effort but makes for an extremely sturdy cart once assembled.  See other images for assembly instructions.
~ 1" lip on 3 sides 1/8" lip on front for easy loading and storage
~ 400 pound capacity (evenly distributed on each shelf)
~ Aluminum uprights provide a solid, sturdy support
Please note: This trademarked cart is designed, manufactured and distributed exclusively by Crayata, LLC.