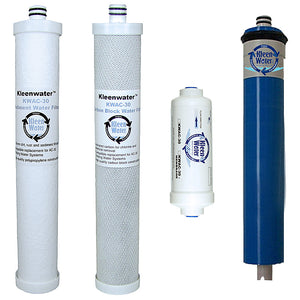 Culligan AC-30 Compatible Replacement Filters and Membrane
Brand: KleenWater
Item Number: KWAC-30-membrane
Regular price $ 68.15 On Sale
Estimated Arrival: Between Dec 11 and Dec 17. * ETA for USA only
Culligan AC-30 Compatible Replacement Filters
Compatible fit filters by KleenWater.

AC-30 Replacement Cartridges and Membrane
Kleenwater AC-30 high quality, low cost replacement cartridges and membranes.

KleenWater Replacement Cartridge and Membrane 4 Set Compatible with Culligan Reverse Osmosis System
Generic replacement filters set with membrane (module)
(1) dirt / sediment pre-filter
(1) carbon block post filter
(1) prolonged in-line carbon cartridge (Made in America by KleenWater)
(1) 50 gallon per day membrane (membrane material made in the USA)
The KleenWater cartridges are 1.9 inch (W) X 11.62 inch (L) and rated to deliver 1.0 gallons per minute. The replacement prolonged in-line carbon cartridge is equipped with a 3/8 inch quick connect inlet / outlet. These cartridges are compatible with Culligan reverse osmosis drinking water systems. It is important to change this set every 6-12 months to ensure high quality water and optimal system performance.
The membrane is compatible with Culligan part # 1224437. This is manufactured by GE and has thin film composite construction. It is rated to produce 50 gallons per day under ideal conditions. In reality the membrane should produce 3 - 5 gallons per day which should suffice for appropriate residential applications. Please note the membrane should be replaced every 4- 6 years or when the water quality and/or the filtered water volume is diminished.
Compatibility:
01-0125-80 compatible with KWAC-30 carbon block water filter
01-0074-02 compatible with KWAC-30 reverse osmosis membrane
00-4015-38 compatible with KWAC-30 sediment water filter
01-0042-91 compatible with KWAC-30 in-line filter

Please search KWAC-30 if you require the cartridge set without the membrane.