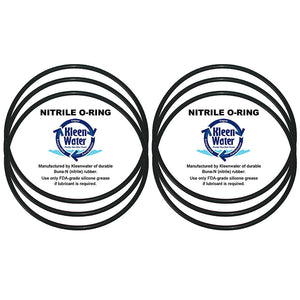 Culligan OR-100 HD-950A, Pentek 151122 Compatible O-ring Set of 6
Brand: KleenWater
Item Number: KW101-CU-Value-Pack(6)
Regular price $ 16.49 On Sale
Estimated Arrival: Between Dec 08 and Dec 14. * ETA for USA only
KleenWater KW101-CU-Value-Pack O-ring Set, Compatible with Culligan OR-100 for HD-950A Water Filter System and Pentek 151122, Replacement O-ring Set of 6
KleenWater KW101-CU-Value-Pack o-rings compatible with the following water filter housing manufacturers and models:
Culligan 950, HD-950A, Ametek No. 151122, UPC 33663005082, OR-100,
American Plumber, Pentek Culligan Big Blue whole house filter housings 10 and 20 inch length wide body's
Ace Hardware 4001756, 49561, American Plumber W10-OR and 152032
Buna N material also commonly referred to as nitrile
KleenWater brand water filter housing replacement o-rings for Culligan HD-950 whole house water filter system using model OR-100 o-rings. This KleenWater Value Pack set of 6 o-rings provides tremendous savings and convenience. No more taking long trips to the hardware store or waiting for your online purchase in the mail. Owning this value pack means always having a spare o-ring on hand. The KW101-CU will accommodate filter housings which require large diameter cartridges. These cartridges have an approximate diameter of 4.5 inches. The o-ring itself actually measures approximately 5.465 inch (inside diameter).
Replacement o-ring for: American Plumber, Pentek Culligan Big Blue whole house filter housings, Culligan 950, HD-950A, Ametek No. 151122, UPC 33663005082, Ace Hardware 4001756, 49561, American Plumber W10-OR and 152032.
An o-ring facilitates a water tight seal between the water filter sump and the water filter head. Made from high quality Buna N material also commonly referred to as nitrile. This is the ideal choice for cold water filtration because they are inexpensive and have superior performance characteristics.
Manufactured by KleenWater. KleenWater is a trademark of Pavel Water Filtration.