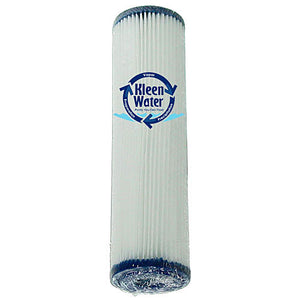 Dirt Rust Sediment Pleated Water Filter Cartridge 2.5 x 9.75 Inch
Brand: KleenWater
Item Number: KW2510BR-5MICRON
Regular price $ 8.79 On Sale
Estimated Arrival: Between Dec 11 and Dec 17. * ETA for USA only
2.5 Inch x 9.75 Inch Dirt / Sediment Pleated Replacement Water Filter Cartridge by KleenWater
This replacement cartridge is constructed of pleated polyester and polypropylene which benefits the consumer in two ways. The pleated design provides a very large exposed surface area that gives the cartridge impressive solids-holding capacity. This cartridge is a single membrane which allows for occasional cleaning. Its performance is commensurate to the competition at a lower cost.
Competition Cross Reference
- Ametek (AKA Pentek, US Filter) R50, P5, R30, W20, ECP5-10, ECP20-10
- American Plumber W50PE, W5CP, W50PE
- Cuno Aqua-Pure AP110
- GE FXWPC (pleated paper construction)
- GE FXWTC
- GE FXUSC String Wound
- Whirlpool WHKF-GD05
- Kenmore 38480
- Watts FM-5-975, WPC1-975
Specifications / Features:
polyester / polypropylene media is bacteria and chemical resistant thus the cartridge is suitable for residential, commercial & industrial applications
2.5" x 9.75" industry standard universal dimension
fits Culligan, Cuno Aqua-Pure, GE, Ametek (AKA Pentek/US Filter) ,Sears and many other water filter housings
change cartridge every 4-6 months or upon substantial pressure reduction
operating range: 20-100 psi, 40-140 F temp, pH 4-10 flow rate 7GPM
manufactured from FDA listed materials
The smaller the micron rating the better the entrapment capability.