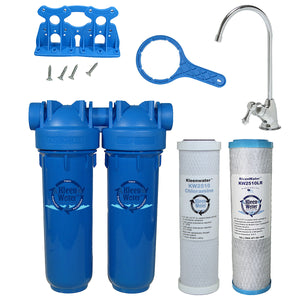 Drinking Water Filter, Lead Chloramine Chlorine Sediment Chrome Faucet
Brand: KleenWater
Item Number: KW1000-Chrome-Faucet
Regular price $ 141.90 On Sale
Chlorine, sediment, chloramine, and lead water filter, KleenWater KW1000 chemical removal under sink drinking water filtration system, chrome faucet, two filter cartridges
Complete drinking water filtration system with activated carbon block filter
Removes: chloramine, chlorine, lead, cysts, dirt, sediment, odor, rust and contaminants
Includes chrome faucet, two 2.5 x 9.75 inch cartridges and complete installation kit
Water filter housing "Made in Italy" NSF/ANSI certified
Great for home and office under sink applications with quick and easy installation
Our KleenWater KW1000 under sink drinking water filter system is designed for chloramine, chlorine, lead, cyst and sediment removal.
This system includes an elegant Euro Style design chrome faucet. This faucet conforms with Federal Reduction of Lead Act 2014.
Our dual cartridge drinking water system has exceptional filtration / treatment capabilities. The KW2510LR carbon block filter absorbs chlorine, taste odor contaminants and VOC's (volatile organic compounds). This filter is proudly made in the USA and is rated for lead removal for up to 2,500 gallons. Lead is removed by incorporating an ion exchange filter media into the carbon block extrusion.
The second cartridge is our KW2510 Chloramine reduction filter. Typical activated filter cartridges are not effective in the removal of chloramine. The KleenWater KW2510 Chloramine extruded activated carbon block filter is made of catalytically charged active carbon. This provides efficient and effective reduction of chloramine and superior chlorine filtration.
Chloramine, an alternative to chlorine, is becoming a more common disinfectant used in public water supplies. Chloramines are deadly to fresh water and salt water fish. The KW1000 system removes chloramines and provides safe water for drinking, cooking, aquariums and aquaculture. All components are included to make installation quick and easy. For additional replacement cartridge sets please search KW2510LR-KW2510-Chloramine.
Specifications:
Manufactured from the highest quality NFS listed FDA grade materials
Temperature range 40-100 degrees F
Pressure range 20-100 psi
Up to 2000 gallon chloramine reduction
KleenWater is a trademark of Pavel Water Filtration.