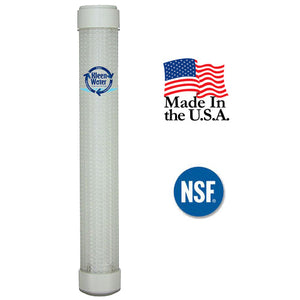 Everpure SS-10 Scale Stick Compatible Cartridge, Water Scale Inhibitor
Brand: KleenWater
Item Number: KWScaleStik
Regular price $ 28.95 On Sale
Estimated Arrival: Between Oct 02 and Oct 08. * ETA for USA only
Everpure Compatible Scale Stick
KleenWater compatible fit Everpure Scale Stick alternative.

SS-10 Everpure Replacement
Model SS-10 Everpure replacement made in the USA by KleenWater.

EV9799-02 ScaleStick Compatible Cartridge
Everpure model EV9799-02 ScaleStick replacement scale inhibitor cartridge.
KleenWater brand compatible replacement for Everpure SS-10 EV979902 Scale Stick Inhibitor Cartridge
Protects ice machines, steamers, proofers, coffee machines and expresso machines from mineral scale
Inhibits mineral scale deposits
High quality alternative to Everpure Scale Stick Inhibitor model SS-10
Made in the USA with free and fast shipping
Polyphosphate active ingredient meets NSF standards
12 month service life with 6 gpm flow rate
The KW ScaleStik is a high quality, more affordable alternative to Everpure model SS-10. The polyphosphate composite active ingredient is very efficient at inhibiting the damaging effects soluble calcium and magnesium can have on food service appliances. These harmful effects are especially problematic when the feed water is heated. The KW ScaleStik will act to sequester the calcium and magnesium thus these soluble minerals can not precipitate out of solution to create lime scale. This scale results in inefficient appliance performance and costly maintenance.
The Scale Stick is found in these Everpure filtration systems:
-SC10-21 Steam Filtration System (EV9797-83)
-SR-X Scale Inhibitor Feeder (EV9798-45)
-SC10-11 Steam Filtration System (EV9797-82)
-Kleensteam CT System (EV9797-50)
-Kleensteam II Twin System (EV9797-22)
-Kleensteam II Single System (EV9797-21)
-SR-X Feeder / Deliming System (EV9797-20)
-High Flow CSR Twin - MC2 System (EV9330-42)
-High Flow CSR Triple - 7FC System (EV9329-74)
-High Flow CSR Triple - 7CLM System (EV9329-53)
-High Flow CSR Twin - 7CLM System (EV9329-52)
-High Flow CSR Triple - MC2 with low pressure alarm (EV9328-05)
-High Flow CSR Triple - MC2 System (EV9328-06)
-High Flow CSR Quad 4FC System (EV9329-44)