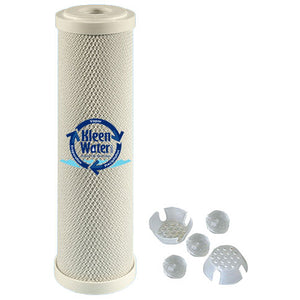 Food Service Beverage and Ice Machine Water Filter Cartridge
Brand: CAware
Item Number: PWF2510CBS
Regular price $ 21.99 On Sale

2.5 x10 Inch Food Service Beverage and Ice Machine Water Filter Cartridge - comprised of NSF approved materials (activated carbon and siliphos spheres). Please note: The picture depicts cartridge components for reference but actually ships fully assembled.


The PWF2510CBS filter cartridge is designed for the food service and hospitality industry. The filter cartridge performs 3 vital functions:


1) The 5 micron rating makes it capable of efficiently trapping dirt / rust and sediment.


2) The PWF2510CBS is comprised of coconut shell carbon and compressed into a rigid block. The activated carbon possesses adsorptive characteristics which remove chlorine, chemicals and other taste / odor contaminants.


3) The center core of the cartridge is filled with siliphos spheres. Thus the cartridge will protect food service equipment from the adverse effect of scale mineral buildup.


Provide great tasting "make-up" water and reduce / eliminate expensive service calls on your commercial food service equipment including: ice machines, fountain soda systems, coffee makers, steamers, etc.

Specifications / Features

Double open ended (DOE) cartridge configuration with the industry standard 2.5 inch x 10 (9.75 exact) inch dimension

Reduces Chlorine/chloramines, VOCs, pesticides and taste / odor contaminants

flow rate 2 GPM


change cartridge every 6-10 months or upon substantial pressure reduction
radial flow (vs axial flow) provides extended useful life and impressive flow rates (include link)

*Projected chlorine reduction capacity when tested in accordance w/ NFS / ANSI Standard 42 protocol. **Explanation of nominal & absolute micron rating. It is generally interpreted as meaning 85% of the particles equal to the nominal micron rating will be retained by the filter. Whereas, 99.9% of the particles equal to the absolute rating will be retained by the filter. The smaller the micron rating the better the particle entrapment capability.