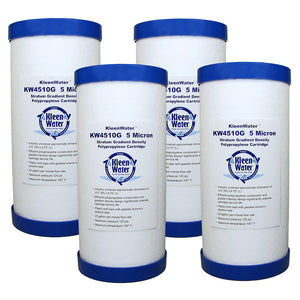 KleenWater 4.5 x 10 Inch Melt Blown (5 Micron) Water Filter Cartridges, Set of 4
Brand: KleenWater
Item Number: KW4510G-5M-Qty4
Regular price $ 61.57 On Sale
Four KleenWater KW4510G 5 Micron Dirt Rust and Sediment Whole House Replacement Water Filter Cartridges
The KleenWater KW4510G melt blown cartridge effectively removes dirt, rust and sediment while maintaining impressive flow rates of up to 20 gallons per minute. This filter was formerly known as the PWF4510G. Each cartridge is 100% graded density polypropylene which contains three distinct micron layers. This tri-gradient innovative design provides exceptional solids holding capacity, enhances flow rate and ultimately extends cartridge life. The outer surface is rated at 75 microns - the middle layer is 25 microns - at the core is 5 microns. This allows the filter to capture large particles on the exterior and progressively finer particles towards the cartridge core. The smaller the micron rating the better the entrapment capability. Plastic end caps with gaskets ensure a positive seal.
This high quality replacement cartridge is a great choice for the value conscious consumers. The performance is commensurate to its competition at a fraction of the cost.
Please note this is a dirt, rust and sediment filter and does not filter chlorine and chemicals. If you are looking for chlorine, taste, odor and chemical removal please search for our KleenWater 4510CB carbon block filter.
KleenWater is a trademark of Pavel Water Filtration.
Specifications
4.5 x 9.75 inch universal dimension
75/25/5 micron filtration
Up to 20 GPM flow rate
Change cartridge every 6 months or upon substantial pressure reduction
Enhanced with end caps and gaskets to improve performance
Compatible Filter Cartridges:Whirlpool WHKF-GD25BB, WHKF-DWHBB, WHKF-WHPLBB, GE FXHSC Pentek/Ametek/USFilter DGD-5005, ECP5-BB, DGD-7525, GD-5010-BB , GD-7520-BB, American Plumber WDGD-5005, 3M Aqua-Pure AP810, AP801, Kenmore 34379, Liquatec SDF-45-1005, SDF-45-1020, SDF-45-1050.
Compatible Filter Housings: Whirlpool WHKF-DWHBB GE GXWH35F, GXH30C, GXWH40L, Sears/Kenmore 38448 3M Cuno Aqua-Pure AP810, AP801, Big Blue.