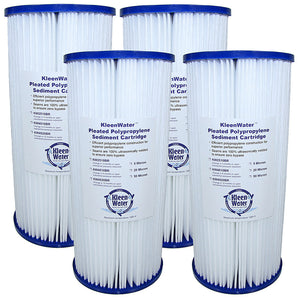 Four FXHSC GE Compatible Pleated Filters - 4.5 x 10 Inch - 20 Micron
Brand: KleenWater
Item Number: KW4510BR-20M-(Qty4)
Regular price $ 67.88 On Sale
FXHSC Compatible Filters

Four KleenWater brand FXHSC compatible pleated filters.

GE Replacement Cartridges

Dirt, rust and sediment GE Smartwater replacement water filter cartridges.

Whole House GE FXHSC Water Filters

4.5 x 9.75 Inch, 20 micron KleenWater replacements for whole house GE FXHSC water filters.

Replacement filter for: GXWH40L, GXWH30C, GXWH35F, GNWH38F and GNQH38S

Four cartridge value set

20 Micron Sediment Rating with 20 gallon per minute flow rate

Compatible with wide body & "Big Blue" housings

Pleated polypropylene construction

4.5" X 9.75" dirt/sediment filter cartridge

Four KleenWater KW4510BR pleated dirt, rust and sediment compatible GE FXHSC replacement water filters.

The KW4510BR 20 micron replacement cartridge is constructed of pleated polyester which benefits the consumer in two ways. The pleated design provides a very large exposed surface area that gives the cartridge impressive solids-holding capacity. This cartridge is a single membrane which allows for occasional cleaning. It's performance is commensurate to the competition at a lower cost. The industry universal dimension of 4.5 inch x 10 inch makes it compatible with filter housing manufacturers such as GE (GXWH35F, GXH30C, GXWH40L), Whirlpool (WHKF-DWHBB), Cuno(AP801), Sears/Kenmore(38448), Culligan(Big Blue) and Ametek (Big Blue), among others. Polyester media is bacteria and chemical resistant thus the cartridge is suitable for residential, commercial & industrial applications.
Specifications / Features:

~ 4.5 x 9.75 inches ~ industry standard universal dimension

~ fits Culligan, 3M Purification / Cuno Aqua-Pure, GE, Ametek (AKA Pentek/US Filter) - Big Blue ,Sears and many other water filter housings

~ change cartridge every 6-10 months or upon substantial pressure reduction

~ operating range: 20-100 psi, 40-100 F temp, pH 4-10

~ flow rates up to 20 gallons per minute.

The smaller the micron rating the better the entrapment capability. KleenWater is a trademark of Pavel Water Filtration.