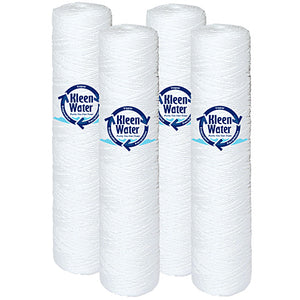 Four Pentek WP5BB20P / WP25BB20P Compatible String Wound Water Filters
Brand: KleenWater
Item Number: KW4520SW-Ptek-4Pack-01
Regular price $ 104.50 On Sale
Four 4.5 x 20 Inch String Wound Replacement Water Filter Cartridges Compatible with Pentek WP5BB20P and WP25BB20P by KleenWater.
Pentair Water markets Culligan, Ametek and the Pentek brands
5, 20 or 50 micron dirt/sediment and rust filtration
Precise geometric patterns ensure high quality and performance
Free shipping - Made in the USA
40 gallon per minute flow rate ideal for "point of entry" installation
Four 4.5 inch x 20 inch water filter alternative cartridges. The string wound polypropylene construction effectively removes dirt and sediment with impressive flow rates of up to 40 gallons per minute. The precise geometric wound patterns insure high efficiency and long lasting performance. The KW4520SW cartridge is made in the USA of FDA grade polypropylene.

This replacement cartridge bundle is an ideal choice for the value conscious consumer. The cartridge should be changed every 6 - 12 months or upon noticeable pressure reduction. To provide prospective to the micron sediment entrapment rating it is important to note the naked human eye can see down to 20 micron and a human hair is 100 microns in diameter. The industry universal dimension of 4.5 inch x 20 inch makes it compatible with 3M AP802 and many other filter housing manufacturers such as Pentek and Culligan. The smaller the micron rating the better the entrapment capability. Shrink Wrapped for Purity.