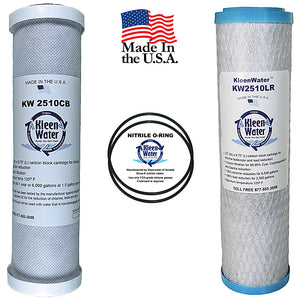 FXSVC GE Compatible Filter Set for GXSV10C Smartwater Two Stage System
Brand: KleenWater
Item Number: KW1000RC/KWGE25RG(2)
Regular price $ 43.99 On Sale

Compatible replacement carbon block water filter cartridge (2) set for GE FXSVC installed in Model GXSV10C with (2) O-RIngs

This kit includes 2 carbon block cartridges and 2 O rings

The 2.5" X 9.34" carbon block cartridges are made in the USA

Free USPS Priority Mail Shipping for quick delivery

Provides "bottle quality" water without the expense and pollution

A "Low Cost High Quality" alternative

This convenient kit contains (2) carbon block cartridges and (2) replacement o rings for GE Model XSV10C.


The first carbon block water filter contains granulated activated carbon which adsorbs chlorine and VOC's (volitile organic compounds). This will provide Chlorine Taste & Odor reduction. It also has a Dirt / Sediment filtration rating of 5 microns nominal.


The stage 2 activated carbon block cartridge filter boasts impressive capabilities. This reduces lead, mercury, atrazine, benzene and dangerous chemicals. The mesh of the ingredient carbon provides sediment rating of 0.5 micron nominal & 1 micron absolute. This provides cyst removal such as Cryptosporidium & Giardia. The turbidity reduction characteristics allow for even asbestos removal.


Change your filters every 6 months or 600 gallons to ensure fresh great tasting water. This combination pack is made in the USA by KX Technologies. The cartridges are slightly larger in diameter because they possess more activated carbon ingredient. They are a flawless fit to the GXSV10C drinking water system. The cartridge with the white end caps is the stage 1 replacement and the cartridge with the gray end caps is the stage 2 replacement .


The O rings facilitate a water tight seal between the water filter sump and the water filter head. The most common O rings (O-rings) used in water filtration are made from Buna N material. Buna N is also commonly referred to as Nitrile. This is the ideal choice for cold water filtration because they are inexpensive and have superior performance characteristics. We recommend the o rings be changed regularly to ensure a dependable water tight seal.