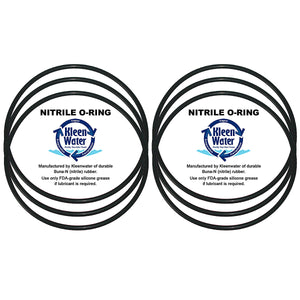 Six GE ws03x10039 151122 Compatible O-rings for 4.5 Inch Housings
Brand: KleenWater
Item Number: KW-WSO3X10039-Qty6
Regular price $ 14.95 On Sale
Estimated Arrival: Between Oct 01 and Oct 07. * ETA for USA only
KleenWater Replacement O-rings Compatible with GE ws03x10039 GXWH30C, GXWH35F, GXWH40L & 151122, Set of 6
Our replacement o-rings are compatible with GE part #WSO3X10039. These o-rings will accommodate filter housings which require large diameter cartridges. These cartridges have an approximate diameter of 4.5 inches. The o-ring itself actually measures approximately 5.465 inches (inside diameter). We recommend consumers keep a spare o-ring on hand to avoid urgent situations.
Compatible with GE filter housings:
GXWH30C
GXWH35F
GXWH40L
Part # 151122
An o-ring facilitates a water tight seal between the water filter sump and the water filter head. The most common o-rings used in water filtration are made from Buna N material. Buna N is also commonly referred to as nitrile. This is the ideal choice for cold water filtration because they are inexpensive and have superior performance characteristics.