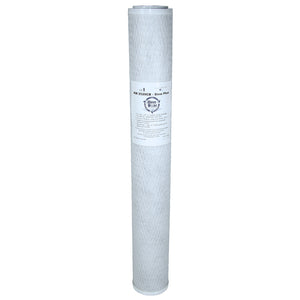 Hoshizaki CTO-20H Compatible Anti-Scale Carbon Water Filter
Brand: KleenWater
Item Number: KW2520CB-SlowPhos
Regular price $ 38.45 On Sale
CTO-20H Hoshizaki Compatible Anti-Scale Calcium and Hard Water Reduction Carbon Block Replacement Cartridge. Made in USA.
Alternative replacement for Hoshizaki filter model CTO-20H
Filters Contaminants: scale, calcium, chlorine, odor, dirt, rust, and sediment and extends the life of all water using appliances by reducing the adverse impact of acidic and hard water conditions. 
The KleenWater KW2520CB-SlowPhos carbon block cartridge is made in the USA. The carbon ingredient removes chlorine and chemicals from water. Chlorine can dry the skin and may be an irritant to certain people. Some studies indicate that there are inhalation risks present when showering with chlorinated and chemically treated water. This cartridge can substantially reduce the chlorine and chemical content of water.
This cartridge also contains polyphosphate which aids in scale control. This will benefit the water using appliances by reducing hardness build up and protect the appliance from the harmful effects of scale. The cartridge should be changed every 6 months. The cartridge is rated for up to a 5 gallon per minute flow rate. It is perfectly normal to hear a rattling inside the carbon block cartridge do to the addition of the siliphos spheres.
Specifications / Dimensions:
Micron rating: 5 micron

Height: 20 inch

Width: 2.5 inch

Flow rate: 5 GPM

Capacity: 7000 gallons

Recommended cartridge change every 6 months, or upon substantial pressure reduction
KleenWater is a trademark of Pavel Companies Inc.