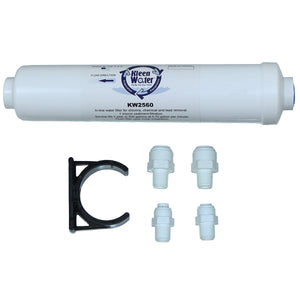 Inline Carbon Water Filter 1/4 and 3/8 Connections
Brand: KleenWater
Item Number: KW2560(1)-1/4(2)-3/8(2)-clip(1)
Regular price $ 26.35 On Sale
Inline Water Filter
Our KleenWater KW2560 inline water filter easily installs into the external feed line. Made in the USA.
1/4 and 3/8 Inch Connections
Comes with quick connect fittings for both 1/4 inch and 3/8 inch in-line connections.
Inline Carbon, Sediment and Chemical Water Filter
Our inline water filter removes lead, chlorine, sediment and chemicals from drinking water.

Inline Water Filter 1/4 and 3/8 Connections - Lead Chlorine Sediment Removal to remove Lead, Chlorine and Chemicals with Versatile Inlet/Outlet Connections. Made in the USA.
Accommodates 1/4" Female Thread, 1/4" quick connect, 3/8" quick connect inlet-outlet
Removes Lead, Chlorine, Chemicals and Provides 1 micron Sediment Filtration
500 gallon capacity at 0.75 gallon per minute
Ideal as an external refrigerator or "under sink" filter
Dimensions: diameter 2 5/16" x length 8 1/4"
The Kleenwater 2560 in-line water filter is an affordable "point of use" drinking water filter that has many applications. The filter is 2"(W) x 10"(L) with a flow rate of 0.75 gallon per minute and 500 gallon capacity. This filter is often installed "under-sink" furnishing water to a dedicated drinking water faucet or as the last filtration stage of reverse osmosis systems. Another popular application is as an external refrigerator water filter. Refrigerator water filters are expensive and often do not have impressive filtration specifications. Most do not filter lead and only have a 300 gallon capacity with 5 micron sediment entrapment. Our KW2560 easily installs into the external refrigerator feed line. Typically included with the refrigerator owners manual is an insert that can be used to seal the internal water filter port. If misplaced, this plug is readily available from the refrigerator manufacturer.
Recently many schools are employing the Kleenwater KW2560 filter at drinking water bubblers to stay in compliance with state law mandating drinking water lead levels be below 15 microgram per liter. This filter will also remove chlorine and chemicals providing "bottle quality" water without the expense and hassle. We include several connection fittings to make certain the filter installation is simple and quick. Also included is a mounting clip to keep the installation sturdy and neat.
This filter is a compatible to Pentek GS-10LS-G, KemFlo AICRO, Omnipure K2533, CA Ware T33, Nu-Calgon 4615-W3, GE GXRTQ, CCK White Rodgers and others.