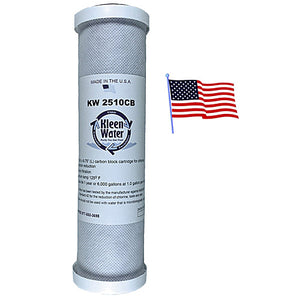 KleenWater Carbon Block Filter, Activated Replacement Cartridge
Brand: KleenWater
Item Number: KW2510CB
Regular price $ 14.58 On Sale
Estimated Arrival: Between Oct 02 and Oct 08. * ETA for USA only
KleenWater 2.5 x 9.75 inch activated solid carbon block water filter replacement cartridge - made in the USA - formerly known as PWF2510CB
5 micron chlorine, chemical, dirt, rust, sediment and odor filtration
2.5 X 9.75 inch carbon block water filter cartridge by KleenWater
Constructed of NSF approved materials
Removes chlorine, enhances tastes and improves health
High quality, low cost carbon filter replacement
Made in the USA

The KleenWater KW2510CB will provide Chlorine Taste Odor Reduction Capacity for more than 5000 gallons* at 1 gallon per minute flow rate. This cartridge is an ideal cartridge for chlorine / chemical reduction for point of use drinking water and reverse osmosis systems. It also has a dirt / sediment rating of 5 microns. The extruded carbon block design will ensure that this cartridge will perform optimally for 6-10 months before being exhausted. The NSF certified coconut shell carbon provides impressive absorbtive capacity ideally suited for water purification. Our KW2510CB is a great, more affordable alternative to: Sears/Kenmore 34370, Watts PWCB10S, Pentek CBC-10, Omni GAC1-SS, KX Industries USA 32-250-125-975.
Specifications / Features
- Double open ended (DOE) cartridge configuration with the industry standard 2.5 inch x 10 (9.75 exact) inch dimension
- Reduces Chlorine/chloramines, VOCs, pesticides and taste / odor contaminants
- Flow rate 1 GPM
- Change cartridge every 6-10 months or upon substantial pressure reduction
- Recommended for point of use installations
- Radial flow (vs axial flow) provides extended useful life and impressive flow rates
*Projected chlorine reduction capacity when tested in accordance w/ NFS / ANSI Standard 42 protocol. The smaller the micron rating the better the particle entrapment capability.