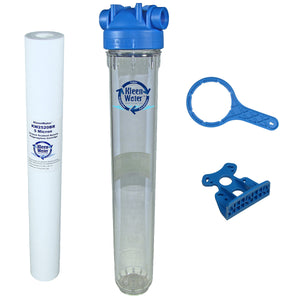 KleenWater KW2520HT Premier Sediment Water Filter System
Brand: KleenWater
Item Number: KW2520HT-DS-34-Premier
Regular price $ 51.95 On Sale
The KleenWater KW2520HT premier water filter system is an excellent choice for applications requiring 3/4 inch NPT inlet/outlet threads and maximum flow rate demands up to 14 gallons per minute.
This system is well equipped including a KW2520HT transparent water filter with mounting bracket, spanner wrench and KW2520BR sediment water filter cartridge. The KleenWater transparent filter sump allows for visible inspection of sediment load on the cartridge. This filter housing is manufactured in Italy from the highest quality and safest materials. The transparent housing is constructed of polyethylene which is the considered a safe choice by specialists in the food and beverage industry. It is manufactured with a proprietary procedure saving up to 60% of energy in injection molding compared with standard plastics. This filter is very rugged and boasts a 125 psi maximum working pressure and 120 degree max temperature.
The system is intended for cold water applications and is the ideal choice to connect to all 3/4 inch plumbing including copper, CPVC, PEX, etc. A built-in pressure relief vent and a spanner wrench are included for easy periodic cartridge change out. Includes a mounting bracket with screws. The bracket will help ensure a sturdy installation.
The water filter cartridge is made of stratum gradient density polypropylene. The graded density design traps 50 micron contaminants at the cartridge surface - 25 micron midway and 5 micron entrapment at the filter core. This allows for exceptional "solids-holding" capability and extended filter service life. To provide perspective to the 5 micron sediment entrapment rating it is important to note the naked human eye can see down to 20 micron and a human hair is 100 microns in diameter.
Specifications
Requires industry standard 2.5 (W) X 20 inch (L) filter cartridges
Max temp 120 degrees F / max pressure 125 PSI
5 micron sediment entrapment with 14 GPM flow rate