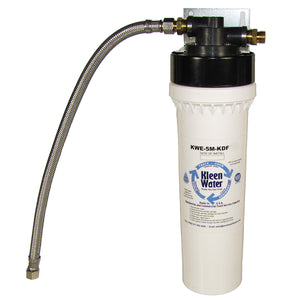 KleenWater KWE-1M-KDF-DWS Under Sink Drinking Water Filter System
Brand: KleenWater
Item Number: KWE-1M-KDF-DWS
Regular price $ 69.95 On Sale
Estimated Arrival: Between Oct 01 and Oct 07. * ETA for USA only
Performance capabilities:

1 Micron Filtration
Greater than 95% Chlorine Reduction for 10,00 gallons @ 1.67GPM
Infused with KDF Media Creating a Bacteriostat for Microbial Control
Polyphosphate Scale Inhibition. Specifications:
Dimensions - 3.5 Inch x 13 inch
Temperature Range 35 - 100 Degrees F
Maximum Pressure 125 lbs PSI
NSF/ ANSI Certified Standard 042
This drinking water system is designed to filter water delivered to the existing kitchen or bathroom faucet. High end counters are very prominent in many present day homes. These counters feature under mount sink configurations. Thus many homeowners are reluctant to drill a hole though these expensive counters to accommodate a dedicated drinking water faucet. Our KWE-5M-KDF-P-DWS provides impressive flow rate and filtration capacity which can furnish "bottle quality" water to the cold supply line of the existing faucet. The main ingredient in the KWE-5M-KDF-P cartridge is AquaBond activated carbon. This specialty carbon uses the latest and most advanced patented manufacturing process and is highly effective for taste / odor, chlorine and VOC removal. AquaBond technology bonds small filtration media to a large carbon support structure therefore the use of sophisticated sorbents such as activated carbon, KDF and polyphosphate can be employed without diminished flow rates. The polyphosphate ingredient protects household appliances from scale formation. KDF media removes heavy metals, including lead, via the process of oxidation / reduction. This design provides dirt sediment filtration, taste odor chlorine adsorption, lead reduction, scale inhibition and microbial control. The cartridge should be changed annually at minimum.