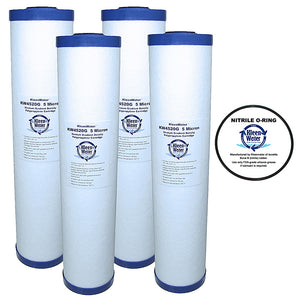 KW4520G 4.5 x 20 Meltblown Replacement Cartridges (4) with Oring
Brand: KleenWater
Item Number: KW4520G-5M-Qty(4)-PWFRG357(1)
Regular price $ 90.97 On Sale
Estimated Arrival: Between Oct 01 and Oct 07. * ETA for USA only
KleenWater KW4520G 5 Micron Dirt, Rust and Sediment Meltblown Water Filter Replacement Cartridge 4.5 x 20 Inch (4) with PWFRG357 O Ring
Dirt, rust and sediment meltblown water filter cartridges with compatible Oring

Compatible with Pentek DGD-5005-20, 3M Aqua-Pure AP810-2

Liquatec SDF-45-2005 and Watts Flow-Pro FPMB-BB5-20, PWF4520CBDS

Plastic end caps and gaskets on each end provide water tight seal

Up to 40 gallon per minute flow rate
This 4-pack 5 micron sediment water filter cartridge set is the ideal choice for the value conscious consumer. The rigid poly-spun construction effectively removes dirt and sediment with impressive flow rates of up to 40 gallons per minute.


The KW4520G by KleenWater is made from continuous spun, thermally bonded polypropylene fibers. Each cartridge contains two distinct micron layers. Larger particles are trapped near the exterior and progressively finer particles towards the filter core. Thus the cartridge has exceptional solids-holding capacity and will perform longer. The industry universal dimension of 4.5 inch x 20 inch makes it compatible with virtually all water filters that require the 4.5 inch "wide body" width and 20 inch length. This filter has a 5 micron sediment entrapment rating. For perspective it is important to note the naked human eye can see down to 20 micron and a human hair is on average 100 microns in diameter. The smaller the micron rating the better the entrapment capability.


Also included is one water filter housing replacement o-ring for the KleenWater brand and wide body filters. This o-ring will accommodate filter housings which require large diameter cartridges. These cartridges have an approximate diameter of 4.5 inches. The o ring itself actually measures approximately 5.475 inches (inside diameter). Please be advised that this o ring is compatible with the KleenWater and YTB brands.