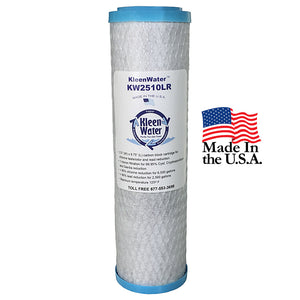 Lead Water Filter Cartridge - 2.5 x 9.75 Inch (USA)
Brand: KleenWater
Item Number: KW2510LR
Regular price $ 21.99 On Sale
Estimated Arrival: Between Oct 02 and Oct 08. * ETA for USA only
KleenWater Replacement Carbon Block Lead Water Filter Cartridge, 2.5 X 9.75 Inch. Made in the USA.
This extruded activated carbon block filter boasts impressive capabilities. The mesh of the ingredient carbon provides for chlorine removal and a dirt/sediment rating of 1 micron. This provides cyst removal such as Cryptosporidium & Giardia. The turbidity reduction characteristics allow for even asbestos removal. Lead is removed by incorporating an ion exchange filter media into the carbon block extrusion. This cartridge is designed for point of use vs. point of entry applications. Compatible with filter housing manufacturers such as GE, Culligan, Cuno, Ametek and others.
Specifications / Features
1500 gallon capacitly @ 1 GPM flow rate
change cartridge every 6-10 months or upon substantial pressure reduction
recommended for point of use installations
2.5" O.D. x 9.75" length
radial flow (vs axial flow) provides extended useful life and impressive flow rates
NSF approved materials
greater than 2,500 gallons lead removal
greater than 6,500 chlorine removal
Our KW2510LR is a great affordable alternative to :
Whirlpool WHKF-DB2
Whirlpool WHKF-DB1
GE FXUVC
GE FXULC
Sears/Kenmore 34377
Pentek EP-10
Omni GAC1-SS
KX Industries 06-250-125-975

*Projected chlorine reduction capacity when tested in accordance w/ NFS/ANSI Standard 42 protocol.