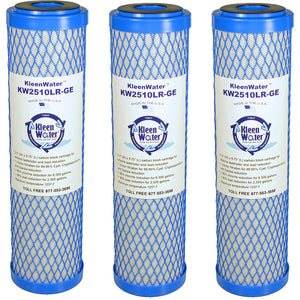 OmniFilter CB1 and CB3 Compatible Carbon Block Water Filters
Brand: KleenWater
Item Number: KW2510LR-GE-Qty3
Regular price $ 65.95 On Sale
KleenWater Carbon Block Water Filter Replacement Cartridges, Compatible with OmniFilter CB1 and CB3, Made in The USA, Pack of 3
Compatible replacement for OmniPure filters CB1 and CB3
Replacement for OmniFilter CB3-SS6-05 Undersink Drinking Water Filter System
Fits all OmniFilter under sink systems, including older models that require the narrow diameter
Made in the USA, 6500 gallon capacity
Filters chlorine, lead, chemicals, cysts and asbestos
The KleenWater KW2510LR-GE activated carbon block filter boasts impressive capabilities. This filter can filter 6,500 gallons of chlorine and is rated for 2,500 gallons of lead filtration. The 0.5 micron (nominal) sediment removal rating can remove cysts such as Cryptosporidium & Giardia. The turbidity reduction characteristics allow for even asbestos removal. Lead is removed by incorporating an ion exchange filter media into the carbon block extrusion.

OmniFilter had made changes to their carbon block filter construction. The KW2510LR-GE also removes volatile organic compounds (VOC) and mercury. The Series A filter diameter was more narrow than the more recent Series B generation. Our filter design is versatile and is compatible to all OmniFilter under sink drinking water systems. Based on many competitor reviews customers were frustrated by the change in diameter. We have designed our KW2510LR-GE to make the filter replacement process quick, easy and hassle-free.

Replacement Water Filter Cartridge removes sediment/rust particles, taste/order, lead, chlorine, cryptosporidium and Giardia Cysts, VOC's, Mercury and Asbestos.

This filter is compatible with OmniFilter model OT2, SFM2, USM2, OB3, SFM2, CBF1, CBF3 and others.