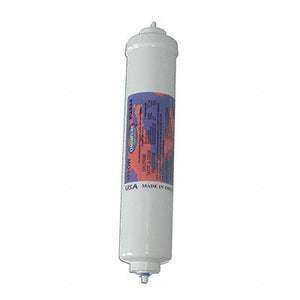 Omnipure K2586 Universal Refrigerator Filter w/ Polyphosphate
Brand: WaterSentinel USA
Item Number: Omnipure-K2586-01
Regular price $ 28.59 On Sale

Omnipure K2586 Universal Refrigerator Filter w/ Polyphosphate.

Low cost, high quality alternative to expensive brand name refrigerator water filter cartridges.

Gain independence from expensive, replacement refrigerator cartridges. Many consumers unknowingly assume they need to buy their refrigerator filters from the original manufacturer. Every refrigerator purchased includes an insert that can be used to seal the water filter port. If misplaced, this plug is readily available from the refrigerator manufacturer.

At Kleenwater.com we recommend the installation of an inline water filter. The K2586 water filter has impressive capabilities and costs less than half the OEM filter cartridge MSRP. This system contains granulated activated carbon to remove chlorine and taste/odor contaminants. It also contains polyphosphate which is a FDA approved mineral that will protect the ice maker and provide crystal clear ice cubes.

The unit is available with 1/4 inch female thread, 1/4 inch quick connect fitting or 3/8 inch quick connect fitting. The K2586 should be installed in the refrigerator water feed line, typically easily accessed in the basement. No specialty tools are required and installation is quick and easy. Mounting clips are included.