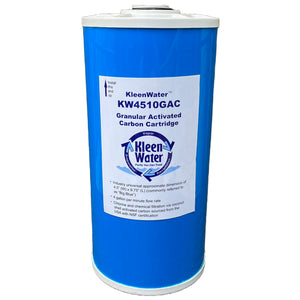 Pentek GAC-BB Compatible Granular Activated Carbon Water Filter
Brand: KleenWater
Item Number: KW4510GAC-Ptek
Regular price $ 28.95 On Sale
4.5 x 10 (9.75) inch Pentek GAC-BB Compatible Granular Activated Carbon Water Filter Cartridge. This filter cartridge reduces chlorine and other contaminants that effect water taste and odor. This cartridge dimension is ideally suited for point of use applications. The cartridge should be changed every 6 months or upon substantial flow rate reduction.
Competition Cross Reference
- Pentek (A.K.A. Ametek,US Filter & Culligan) GAC-BB
- Liquatec UDF-10BP
- American Plumber WGCHD
Specifications / Features
Exact Dimensions - 4.5 inch x 9.75 inch

20 Micron

Dirt / Sediment Filtration Capability

Satisfactory for point of entry applications

Axial flow allows for efficient filtration and adsorption of contaminants
The industry universal dimension of 4.5 inch x 10 inch makes it compatible with filter housing manufacturers such as GE (GXWH35F, GXH30C, GXWH40L), Whirlpool (WHKF-DWHBB), Cuno(AP801), Sears/Kenmore(38448), Culligan(Big Blue) and Ametek (Big Blue), among others.