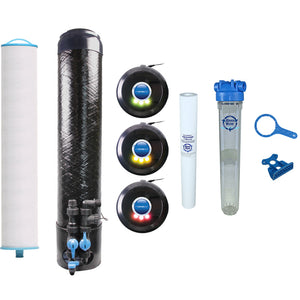 PFOS, PFOA, Lead and Cyst Whole House Water Filter System
Brand: vendor-unknown
Item Number: Pioneer-KW2520HT
Regular price $ 1,430.00 On Sale
PFOS, PFOA and Lead Water Filter
PIONEER is the first of its kind PFOA/PFOS, lead, cyst, chemical, chlorine and chloramine removal water filter.

Whole House PFOS/PFOA Water Filter System
This is a PFOA/PFOS and lead whole house water filter system.
NSF Certified System
Complete whole house water filter system NSF certified for PFOS and PFOA removal.
Large tank 8"(D) x 40"(H) delivers optimal filtration
100,000 gallons of performance per filter cartridge
PFOS and PFOA are dangerous carcinogens
Quick and Easy "DYI" filter cartridge replacement
Transparent 5 Micron Sediment Pre-filter included
NSF certified to remove PFOS, PFOA, Lead, Cysts, Chlorine and Chloramine
PFOS (perfluorooctanesulfonic acid) & PFOA (perfluorooctanic acid) in H2O
In some parts of the US these chemical pollutants are becoming very much a part of the public consciousness. It has become clear that consuming water with elevated levels is dangerous to human health. Studies indicate that exposure to PFOS and PFOA over certain levels may result in adverse health effects, including developmental effects to fetuses during pregnancy or to breast fed infants, cancer, liver effects, immune effects, thyroid effects and other effects. At this time there is limited information identifying health effects from inhalation or dermal exposure.

To provide Americans with a level of protection from a lifetime exposure to PFOS and PFOA the federal EPA established the health advisory level of 70 ng/l (parts per trillion). This advisory is non-enforceable and non-regulatory. As the seriousness and pervasiveness of these pollutants becomes recognized individual states have established maximum contaminant levels (MCL). In 2019 New Jersey established an interim MCL for PFOS of 10 ng/l.

These chemicals have contaminated ground water by either careless, naïve or ignorant industrial use and disposal. PFOS and PFOA chemicals were used to make carpets, clothing, furniture fabrics and other materials that are resistant to water, grease or stains. They were also used for firefighting at airfields and in other industrial processes.

The most effective and affordable filtration technology for PFOS and PFOA removal is activated carbon. The filtration design and engineering that employs activated carbon has to deliver performance results. These promised results need to be verified and certified through an independent testing laboratory. The Enpress Pionner system has been tested and third-party certified as required in the NSF/ANSI P473 standard for PFOA/PFOS, along with NSF/ANSI 53 standard for the reduction of lead and cyst. As noted below the Pioneer system can efficiently remove choline and chloramine.

NSF Certified Performance Specifications:
PFOS and PFOA reduction of 97.9% and lead of 99.62% when tested at 4.5 gallons per minute (gpm) with peak flows of 8 gpm. Capacity 100,000 gallons.
Chlorine reduction > 300,000 gallons @ 15 gpm with 90% reduction
Chloramine reduction > 150,000 gallons @ 8 gpm with 85% reduction
The Pioneer system removes both particulate and soluble lead. Within the activated carbon block are ion exchange binders that attract and capture the soluble lead. This carbon block is rated at 0.5 micron and thus can efficiently trap particulate lead and cysts. Please note as the water travels through the carbon block filter matrix it will decrease household pressure. The reported pressure decrease is 9 psi with a water flow rate of 4.51 gallons per minute. To be qualified to earn NSF/ANSI 53 standard for Lead removal the water filtration system must be able to count the gallons consumed and indicate when the filter cartridge capacity is exhausted. The Pioneer system is meter equipped with a green, yellow, and red light indicator system. Green = good, Yellow = less than 10% remaining capacity, Red = change filter now. As stated above the carbon block filter cartridge traps particulates down to 0.5 microns. To protect the Pioneer filter from premature sediment fouling we provide a 5 micron pre-filter. This transparent filter is equipped with 1" FNPT inlet / outlet plumbing connections. The KW2520BR polypropylene sediment cartridge is rated to deliver up to 14 gallons per minute.

It is recommended the sediment pre-filter cartridge be replaced every 6 months. Please search KW2520BR to order replacement cartridges.

The Pioneer replacement cartridge model is KW-Pioneer-CB. This should be ordered when the water meter indicator light is yellow and should be changed when the light is red. The system is equipped with a by-pass to make the carbon block filter replacement quick and easy. The exhausted cartridge can be discarded with household trash. With other technologies the exhausted filtration media may have to be regarded as hazardous waste.

Lawn watering requires large water volume which would place an overwhelming and unnecessary burden of the Pioneer system. It is important to provide unfiltered water to the lawn irrigation system if applicable. This is considered to be a "home run" connection and would go from the water meter uninterrupted to the lawn irrigation system. All other plumbing is to be furnished from the outlet of the Pioneer system.