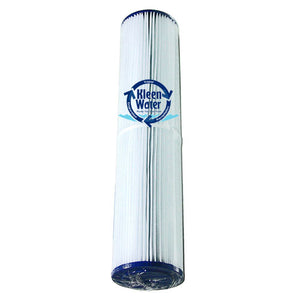 Pleated Dirt Rust Sediment Water Filter Cartridge 4.5 x 20 Inch
Brand: KleenWater
Item Number: KW4520BR-5MICRON
Regular price $ 37.99 On Sale
KleenWater KW4520BR Dirt Rust and Sediment Pleated Water Filter Replacement Cartridge
This replacement cartridge is constructed of pleated polyester which benefits the consumer in two ways. The pleated design provides a very large exposed surface area that gives the cartridge impressive solids-holding capacity. This cartridge is a single membrane which allows for occasional cleaning. Its performance is commensurate to the competition at a lower cost.
Competition Cross Reference
- Ametek (AKA Pentek, US Filter) R30-20BB, S1-20BB, R30-20BB, ECP20-20BB, ECP5-20BB, ECP1-20BB, ECP50-20BB
- Keystone GPE30-20
- Watts FM-BB-20-5, WPC1FF20
Specifications:
polyester media is bacteria and chemical resistant thus the cartridge is suitable for residential, commercial & industrial applications
4.5 x 20" industry standard universal dimension
fits Culligan, Cuno Aqua-Pure, GE, Ametek (AKA Pentek/US Filter) ,Sears and many other water filter housings
change cartridge every 6-10 months or upon substantial pressure reduction
operating range: 20-100 psi, 40-100 F temp, pH 4-10
flow rates up to 40 gallons per minute
The smaller the micron rating the better the entrapment capability. The KW4520BR was formerly the PWF4520BR.