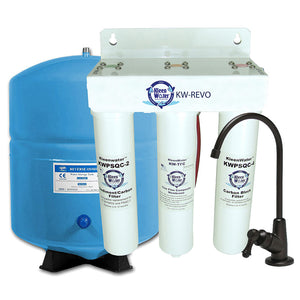 Reverse Osmosis RO Drinking Water Filtration (Filter) System
Brand: KleenWater
Item Number: KW-REVO-01
Regular price $ 273.90 On Sale
Reverse Osmosis System
Complete 50 gallon per day reverse osmosis filtration system.

RO Membrane Filter
Three stage RO membrane and two cartridge water filter system made in the USA.

Reverse Osmosis Water Filter
KleenWater's premier reverse osmosis drinking water filter system removes sediment, chlorine and chemicals.
KleenWater KW-REVO reverse osmosis drinking water filter, 50 gallons per day, with luxury faucet.
Water filter cartridges and membrane made in the USA
Includes installation kit and 3.2 gallon storage tank
5 faucet finishes to choose from with Euro decorative design. See our styles here: Faucet Finishes
Faucets are Lead Free and IAPMO certified.
Filters are self contained to promote convenience and to avoid contamination
Premium 3 stage KleenWater complete reverse osmosis drinking water system offers high quality and great value. Reverse Osmosis (RO) technology provides water that significantly reduces total dissolved solids (TDS), chlorine and chemicals. The 3 filtration stages consist of first the KWPSQC-2 filter that removes sediment down to 5 microns, chlorine and chemicals. Next in series is our KW-THC membrane. This component separates dissolved solid contaminants such as sodium, manganese, fluoride, nitrate, nitrite, lead and iron from the water molecule.The membrane is capable of rejecting greater than 95% of the dissolved solids content of the feed water. The third and final filtration component is the KWPSQC-4 carbon block cartridge. The filter enhances the taste of the water and provides another layer of carbon filtration to remove chemical contaminants.

There are many reverse osmosis systems that boast 4 and 5 stages of filtration. This redundant approach is hype and simply adds to the routine filter replacement costs incurred by the homeowner.

Please search KWPSQC-2&4 to purchase the filter cartridge replacement set. This set should be changed annually.

Please search KWPSQC-Module-2&4 to purchase the cartridge replacement with the membrane. The membrane should be replaced approximately every 5 years.