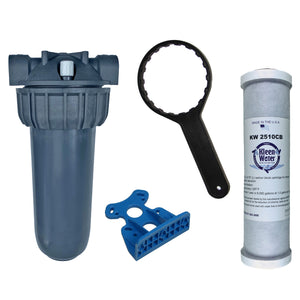 Shower Hot Water Filter - Prevents Hard Water, Scale and Corrosion
Brand: KleenWater
Item Number: KWHW2510-KW2510CB-P(1)
Regular price $ 98.95 On Sale
Estimated Arrival: Between Dec 08 and Dec 14. * ETA for USA only
KleenWater Premier Hot Water Shower Filter - Prevents Hard Water Mineral Damage - Prevents Scale and Stops Corrosion

KleenWater brand premier hot water shower filter made in Italy
Prevents hard water damage caused by minerals such as calcium and magnesium salts
Stops corrosion, controls scale and removes chlorine
Includes mounting bracket with bracket screws and filter wrench for easy cartridge change
Includes one carbon block cartridge with polyphosphate (siliphos)
The KleenWater Premier heavy duty hot water shower filter system includes one high temperature water filter housing with bracket, bracket hardware and wrench. This package also includes one carbon block water filter (2.5 x 10 inch) with scale control polyphosphate. The water filter is designed and manufactured in Italy. The filter is equipped with 3/4" FNPT inlet / outlet. It features a pressure relief vent which allows the filter to be decompressed which makes the cartridge change quick and easy. The filter is a heavy duty, rugged housing made from reinforced polyamide capable of temperatures up to 176 Fahrenheit and 116 PSI.
The KleenWater KW2510CB-P 5 micron carbon block cartridge is made in the USA. The carbon ingredient removes chlorine and chemicals from water. Chlorine can dry the skin and may be an irritant to some. Some studies indicate that there are inhalation risks present when showering with chlorinated and chemically treated water. This cartridge can substantially reduce the chlorine and chemical content of water.
This cartridge also contains FDA approved polyphosphate which aids in scale control. This will benefit the shower appearance by reducing hardness build up and protect the shower valve fixture from the harmful effects of scale. The cartridge should be changed every 6 months. The cartridge is rated for up to a 3 gallon per minute flow rate. It is perfectly normal to hear a rattling inside the carbon block cartridge do to the addition of the siliphos spheres.
Specifications:
Approximate dimensions - 5 1/2 width x 12 inch height
Max 3 gpm flow rate
Max temperature 176 degrees F
Max psi 116
Replacement cartridge 2.5 x 10 inch (KW2510CB-P)
KleenWater is a trademarked brand name owned by Pavel Water Filtration.