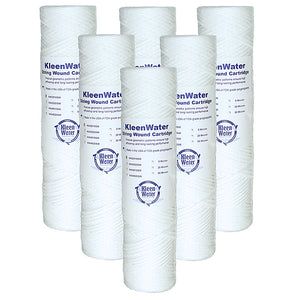 Six Culligan CW-F Compatible String Wound Filters - 2.5 x 10 Inch
Brand: KleenWater
Item Number: KW2510SW-CLG-5M-Qty(6)
Regular price $ 42.75 On Sale

Six 2.5 x 10 Inch Culligan CW-F String Wound Replacement Water Filters - 5 Micron - Made in the USA

Six KleenWater model KW2510SW 5 micron string wound dirt, rust and sediment filters

Replacement for: GE FXWSC, Whirlpool WHKF-WHSW, Pentek/Ametek CW-F 155186-43, 3M Aqua-Pure SW20-S

Culligan CW-F, Ace Hardware 45331, Watts SF5-978 & OmniFilter RS3-SS24, Hydronix SWC-25-10100

Watts SF1-978, Filtercor FCP20R10P, Aqua Flo SW-10-10

2.5 x 9.75 inch universal dimension

Fits models #HF-150, HF-160, HF-360 and most standard size sediment filters

Six KleenWater brand KW2510SW string wound dirt/sediment water filter cartridges - 2.5 inch x 9.75 inch. These replacement cartridges are an ideal choice for the value conscious consumer. Performance rivals the competition at a fraction of the cost . Proudly made in the U.S.A. The KW2510SW is manufactured from a durable polypropylene cord that is wound around a rigid polypropylene core. The large exposed surface area gives this cartridge impressive dirt-loading capacity. Thus it can perform longer and more efficiently. The cartridge effectively removes dirt, rust and sediment. The 8 gallon per minute flow rates allow for residential applications.

The industry universal dimension of 2.5 inch x 9.75 inch makes it compatible with filter housing manufacturers such as GE, Culligan, Cuno, and Ametek, among others. It is recommended the cartridge be changed every 3-6 months or upon substantial pressure reduction. Temperature Rating 40F - 165F (4.4C - 74C).

The smaller the micron rating the better the entrapment capability. KleenWater is a trademark of Pavel Water Filtration.