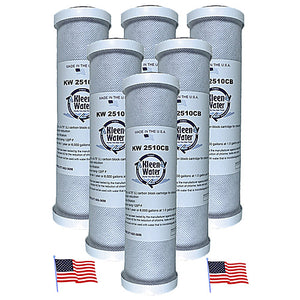 Six Pentek EP-10 Compatible 2.5 x 9.75 Inch Carbon Block Water Filters
Brand: KleenWater
Item Number: KW2510CB-PEN-Qty6
Regular price $ 65.64 On Sale
Six Pentek EP-10 compatible 2.5 x 9.75 inch solid carbon block water filter cartridges for chemical and chlorine removal - by KleenWater - Made in the USA
Six KleenWater solid carbon block water filters
Free priority mail shipping.
2.5 x 9.75 Inch NSF rated cartridge
Provides "bottled quality water" at your kitchen sink
Removes chlorine and chemicals that impart adverse taste
The KleenWater KW2510CB cartridge will provide Chlorine Taste Odor Reduction Capacity for more than 5000 gallons* at 1 gallon per minute flow rate. This cartridge is an ideal cartridge for chlorine / chemical reduction for point of use drinking water and reverse osmosis systems. It also has a dirt / sediment rating of 5 microns nominal and 10 microns absolute**. The extruded carbon block design will ensure that this cartridge will perform optimally for 6-10 months before being exhausted. The NSF certified coconut shell carbon provides impressive absorbtive capacity ideally suited for water purification.
Our KW2510CB is a great, more affordable alternative to: Pentek C1, Sears/Kenmore 34370, Watts PWCB10S, Pentek CBC-10, EP-10, Omni GAC1-SS, KX Industries USA 32-250-125-975.
Specifications / Features
- Double open ended (DOE) cartridge configuration with the industry standard 2.5 inch x 10 (9.75 exact) inch dimension
- Reduces Chlorine/chloramines, VOCs, pesticides and taste / odor contaminants
- Flow rate 1 GPM
- Change cartridge every 6-10 months or upon substantial pressure reduction
- Recommended for point of use installations
- Radial flow (vs axial flow) provides extended useful life and impressive flow rates
*Projected chlorine reduction capacity when tested in accordance w/ NFS / ANSI Standard 42 protocol. **Explanation of nominal & absolute micron rating. It is generally interpreted as meaning 85% of the particles equal to the nominal micron rating will be retained by the filter. Whereas, 99.9% of the particles equal to the absolute rating will be retained by the filter. The smaller the micron rating the better the particle entrapment capability. KleenWater is a trademark of Pavel Water Filtration.