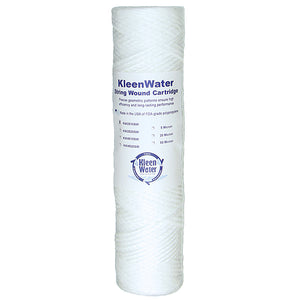 String Wound Water Sediment Filter Cartridge, 2.5 x 9.75
Brand: KleenWater
Item Number: KW2510SW-5MICRON
Regular price $ 9.50 On Sale
String Wound Water Filter Cartridge - 2.5 x 9.75 inch - Dirt, Rust and Sediment Filtration
This replacement cartridge is an ideal choice for the value conscious consumer. Its performance rivals the competition at a fraction of the cost . Proudly made in the U.S.A.
The KleenWater KW2510SW is manufactured from a durable polypropylene cord that is wound around a rigid polypropylene core. The large exposed surface area gives this cartridge impressive dirt-loading capacity. Thus it can perform longer and more efficiently. The cartridge effectively removes dirt, rust and sediment. The 8 gallon per minute flow rates allow for residential applications.
The industry universal dimension of 2.5 inch x 9.75 inch makes it compatible with filter housing manufacturers such as GE, Culligan, Cuno, and Ametek, among others. This cartridge is commensurate to GE FXWSC.
Competition Cross Reference
- Cuno Aqua-Pure AP110
- GE FXWSC
- GE FXUSC
- Sears/Kenmore 38476
- Whirlpool WHKF-WHSW
- Pentek WP5, CW-F, PS20-10C, CW-MF, W30W, CW50
- Watts SF1-978, SF5-978, SF20-978, SF50-978
- Liquatec SWF-25-1005, SWF-25-1020, SWF-25-1050
Specifications / Features:
made from wound polypropylene cord
2.5" x 9.75" industry standard universal dimension
fits Culligan,Cuno Aqua-Pure,GE,Ametek (AKA Pentek/US Filter) and many other water filter housings
change cartridge every 4-6 months or upon substantial pressure reduction
Temperature Rating 40F – 165F (4.4C – 74C)
The smaller the micron rating the better the entrapment capability. The KW2510SW is was formerly known as PWF2510SW.