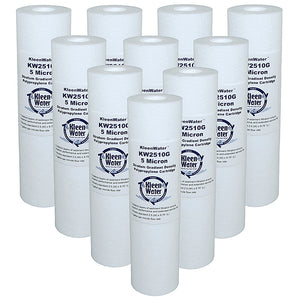 Ten Pentek P5 Compatible Water Filters - 2.5 x 9.75 Inch - 5 Micron
Brand: KleenWater
Item Number: KW2510G-PTK-5M-Qty10
Regular price $ 38.49 On Sale

Ten Pentex P5 (155014-43) compatible melt blown replacement water filters - 5 Micron - 2.5 x 9.75 inch - by KleenWater

These ten KleenWater brand cartridges are high quality low cost alternatives.

5 micron dirt removal rating with graded density design for longer service life.

Replace cartridge every 3-6 months or upon substantial pressure reduction.

Free & fast shipping. 8 gallon per minute flow rate

This convenient 10-pack bundle is compatible with these models: - Pentek P5, Ametek (AKA Pentek, US Filter, Pentair) CW-MF - GE FXWTC - Whirlpool WHKF-GD05 - Sears/Kenmore 38480 - Liquatec SDF-25-1005, SDF-25-1020, SDF-25-1050 -Everpure EC-10, EC-110, K10 -Nu-Calgon 4621-42 -Hoshizaki 9534-12 -American Plumber WPD-110 & RS14-DS and housings requiring standard 2.5 x 10 inch cartridges.

The rigid poly-spun cartridge construction effectively removes dirt and sediment with impressive flow rates of up to 8 gallons per minute. Each cartridge contains two distinct micron layers, where larger particles are trapped near the exterior. Progressively finer particles are then trapped as they move towards the filter core. Thus the cartridge has exceptional solids-holding capacity and will perform longer. The KW2510G is made from continuous spun, thermally bonded polypropylene fibers. The cartridge is rated for 5 micron dirt /sediment removal.

To provide perspective to the 5 micron sediment entrapment rating it is important to note the naked human eye can see down to 20 micron and a human hair is 100 microns in diameter.