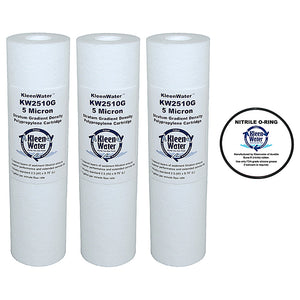 Three GE GXWH04F, GXWH20F, GXWH20S, GXRM10 Compatible Filters - Oring
Brand: KleenWater
Item Number: KW2510G-Qty3-KWGE25RG-Qty1-01
Regular price $ 25.29 On Sale
Three 2.5 x 10 Inch GE GXWH04F, GXWH20F, GXWH20S, GXRM10 & GX1S01R Compatible Water Filter Cartridges Plus O-Ring - Poly-Spun Cartridges - by KleenWater
3 Cartridge and one o-ring set is compatible with:
- G.E. filter housings GXWH04F, GXWH20F, GXWH20S, GXRM10, GX1S01R, GE FXWTC AND GE FXUSC
- Whirlpool WHKF-GD05
- Sears/Kenmore 38480
- 3M Aqua-Pure AP110
- Ametek (AKA Pentek, US Filter) CW-MF
This convenient set consists of (qty) 1 KWGE25RG oring and (qty) 3 KW2510G Dirt / Sediment Water Filter Cartridges. The replacement cartridge kit is an ideal choice for the value conscious consumer. Its performance is commensurate to the competition at a fraction of the cost. The rigid poly-spun construction effectively removes dirt and sediment with impressive flow rates of up to 8 gallons per minute. Each cartridge contains two distinct micron layers. Larger particles are trapped near the exterior and progressively finer particles towards the filter core. Thus the cartridge has exceptional solids-holding capacity and will perform longer. The industry universal dimension of 2.5 inch x 10 inch makes it compatible with filter housing manufacturers such as GE, Culligan, Cuno, Omni, Kenmore, Whirlpool and Ametek, among others.
Specifications / Features:
~ Made from continuous spun, thermally bonded polypropylene fibers
~ Flow rate 8GPM
~ Change cartridge every 4 months or upon substantial pressure reduction
~ Graded density dirt sediment / rust filter cartridge
~ Universal 2.5 x 10 inch
~ High quality, low cost alternative replacement water filter and o-ring set.
The smaller the micron rating the better the entrapment capability. This is a tremendous value and all materials are of the highest quality. It is important to have a spare o ring handy to avoid an urgent situation. The sediment cartridge should be changed routinely to avoid reduced flow rates and pressure. KleenWater is a trademark of Pavel Water Filtration.