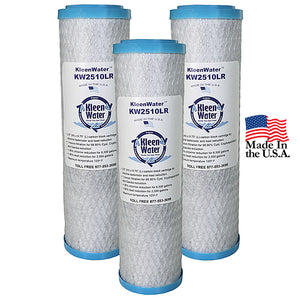 Three Whirlpool WHKF-DB2 / WHKF-DB1 Compatible Carbon Block Filters
Brand: KleenWater
Item Number: KW2510LR-WHR-Qty3
Regular price $ 60.45 On Sale

Three KleenWater KW2510LR Compatible Replacement Filters for Whirlpool WHKF-DB2, WHKF-DB1, Pentek CBR2-10R 155403-43, Matrikx Pb1 06-250-125-975, and Sears/Kenmore 34377.

2.5 x 9.75 inch Whirlpool WHKF-DB2, WHKF-DB1 alternative filter made in the USA

Lead and turbidity reduction. Outstanding chlorine taste and odor reduction

Chlorine removal and a dirt / sediment rating of 1 micron

This KleenWater brand extruded activated carbon block filter boasts impressive capabilities. The mesh of the ingredient carbon provides for chlorine removal and a dirt/sediment rating of 0.5 micron nominal and 1 micron absolute. The filter provides cyst removal such as Cryptosporidium & Giardia. The turbidity reduction characteristics allow for even asbestos removal. Lead is removed by incorporating an ion exchange filter media into the carbon block extrusion. It's capacity is >2,500 gallons for lead removal and >6,500 gallons for chlorine removal.