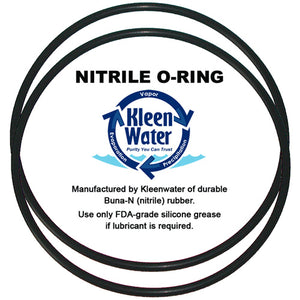 Two 151121 Pentek Compatible Orings for 2.5 Inch Housings
Brand: KleenWater
Item Number: RG2K4W1-Qty2
Regular price $ 12.09 On Sale

Two Pentek 151121 compatible replacement water filter orings for housings requiring 2.5 inch cartridges by KleenWater.

The KleenWater brand RG2K4W1 oring will accomodate filter housings which require 2.5 inch diameter cartridges. The o-ring itself actually measures approximately 3 7/8 inches (inside diameter). We recommend consumers keep a spare o ring on hand to avoid urgent situations.
Replacement for:

Pentek 15066 20 inch length, valve in-head feature with opaque sump

Pentek 150072 10 inch length, transparent sump

Pentek 150070 20 inch length, blue sump

Pentek 150437 10 inch length, clear sump

US Filter 150398 10 inch length, valve in-head with clear sump

Ace Hardware model # HF-150ACE

Part #151121 replacement o ring for Pentek water filter. Can be used with housings which accomodate the industry universal 2.5 inch cartridge width. This oring is compatable with water filter housings marketed under the following brands: Ametek, Pentek, Culligan, Kleen Plus, Plymouth Products, Pentair and U.S Filter (2.5 inch cartrdige size).

An o-ring facilitates a water tight seal between the water filter sump and the water filter head. The most common orings used in water filtration are made from Buna N material. Buna N is also commonly referred to as nitrile. This is the ideal choice for cold water filtration because they are inexpensive and have superior performance characteristics.