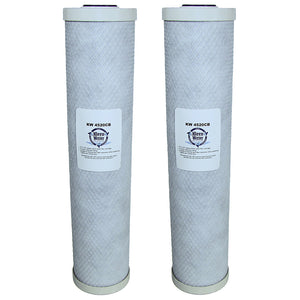 Two Pentek CBC-20BB Compatible Filters - 4.5 x 20 Inch Carbon Block
Brand: KleenWater
Item Number: KW4520CB-PTK-(Qty2)
Regular price $ 87.95 On Sale
Two Pentek CBC-20BB Compatible Water Filters - 4.5 x 20 Inch Carbon Block Replacement Cartridges by KleenWater
Two Pentek CBC-20BB compatible KleenWater brand whole house carbon filters.
Provides "bottled quality" water for the entire home
Removes/reduces chlorine, sulfur, odors, rotten egg smell, pesticides, chloramines and other contaminants
4.5 x 20 inch "Industry Common" dimension
Two carbon block Pentek CBC-20BB compatible replacement water filters. KleenWater brand KW4520CB 4.5 x 20 inch whole house solid activated carbon block water filter cartridges. These filters are made and sold exclusively by KleenWater. The KleenWater KW4520CB cartridge will provide chlorine and chemical reduction for more than 26,000 gallons at 7 gallon per minute flow rate. The activated carbon is the essential ingredient that purifies water through the process of adsorption. This adsorption process improves the taste and odor of water giving it a "bottled water quality". The 4.5 X 20 inch inch dimension supports flow rates of up to 7 gallons per minute. Thus the cartridge is acceptable for "point of entry" whole house applications.
The KW4520CB carbon block cartridge is wrapped in a 5 micron polypropylene sheathing which traps dirt, sediment and rust to protect the carbon block from premature fouling. The extruded carbon block design will ensure that this cartridge will perform optimally for 6-8 months before being exhausted under normal water conditions.
The NSF certified coconut shell carbon provides impressive adsorbtive capacity ideally suited for water purification. The universal dimension make it compatible with filter housing manufacturers such as: G.E., Culligan, Cuno, 3M AquaPure, Ametek / Pentek and others. Our KW4520CB is a great, more affordable alternative to KX Industries USA 32-425-125-20, Watts PWCB20BBS and Pentek EP-20BB.
Specification/Features
- Double open ended (DOE) cartridge configuration with the industry standard 4.5 inch x 20 inch dimension
- Reduces Chlorine/chloramines, VOCs, pesticides and taste / odor contaminants
- Change cartridge every 6-8 months or upon substantial pressure reduction
- Radial flow (vs axial flow) provides extended useful life and impressive flow rates