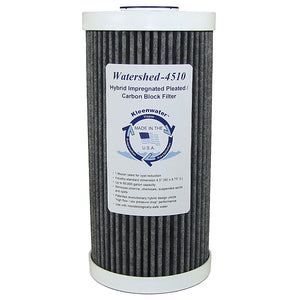 Watershed4510 Hybrid Pleated / Carbon Block Whole House Filter
Brand: KleenWater
Item Number: KW-Watershed4510
Regular price $ 54.95 On Sale
Estimated Arrival: Between Oct 02 and Oct 08. * ETA for USA only
One KleenWater Watershed-4510 Hybrid Pleated / Carbon Block Whole House Water Filters - 4.5 x 9.75 Inch  - Dirt, Rust, Sediment, Chlorine, Cysts and More
Removes sediment, chlorine, chemicals and suspended solids
Extremely high dirt holding capacity and very resistant to clogging
High flow design ~ Low pressure drop
1 Micron NSF rated for cyst reduction
Up to 80,000 gallons capacity
Our KleenWater Watershed4510 is a truly revolutionary water filter cartridge. This hybrid water filter represents a "watershed moment" using ground breaking technology to provide filtering capabilities never before available with a single filter cartridge. It can remove sediment, chlorine and chemicals for up to 80,000 gallons while sustaining occasional flow rate demand spikes of up to 6 gallons per minute. The Fibrillated Adsorbent Cellulose Technology or FACT impregnated pleated media boasts "game changing" performance.
Previously to obtain commensurate performance several larger, heavier and much more expensive filters would be required. The Watershed-4510 can be used at the "point of entry" to a typical private residence providing "bottle quality" water throughout.
This cartridge was laboratory tested using water with 117 NTU . NTU is a measurement of turbidity. Turbidity refers to the amount of small suspended solid matter in water. Potable water should not exceed 0.5 NTU. The Watershed-4510 performed 99.7% efficient and produced potable water. Typical traditional carbon filtration was virtually useless and performed only 8% efficient. This cartridge can provide families with safe drinking water, better tasting, cleaner and safer water. The KW Watershed4510 cartridge can provide families who have experienced potentially unsafe water with clear, clean water free of Cysts such as Cryptosporidium, Giardia, Entamoeba and Toxoplasma. Never before has an activated carbon filter been able to filter cysts and maintain flow rates of up to 6 gallons per minute. It is important to use this cartridge with microbiologically safe water as the Watershed-4510 will not mitigate bacteria.
KleenWater is a trademark of Pavel Water Filtration.